Hamilton fastest in final practice session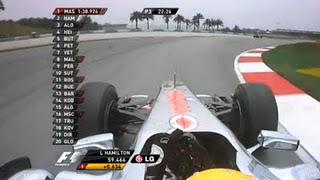 Lewis Hamilton set the fastest time on Saturday morning with a 1:36.340. Mark Webber was second, 0.290 seconds adrift of the Briton. Jenson Button (+0.422), Nick Heidfeld (+0.775) and Sebastian Vettel (+0.835) completed the top five. On his fastest lap, the German Red Bull driver faced some traffic, though.
Ferrari seem to have difficulties matching the pace of the frontrunners with Fernando Alonso 0.944 and Felipe Massa 1.422 seconds behind Hamilton. It is possible, however, that Ferrari was on heavier fuel load.
The Mercedes team does not look comfortable around the Malaysian race track. Unless rain plays into their hands, a grid position within the first two or three rows would be a surprise for Michael Schumacher and Nico Rosberg.
Lotus Renault struggled on Friday, but seem to be back on pace with Nick Heidfeld forth (+0.775) and Vitaly Petrov seventh (+0.957).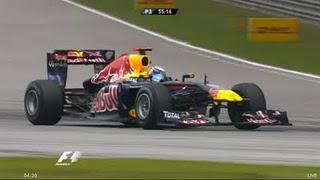 Vettel had some difficulties with the DRS on Saturday.
The Hispania drivers might find it difficult to qualify for the race once again. The time limit according to the 107 percent rule for this Saturday morning session would have been a 1:43.084, a time which both Liuzzi and Karthikeyan did not achieve. What could help them, though, is the fact that the fastest drivers usually do their laps on the prime tyre in Q1.

Friday Practice 3 - Final Results
  Pos. Driver Nat. Team Time Gap Laps
  1 Lewis Hamilton British McLaren 1:36.340   11
  2 Mark Webber Australian Red Bull 1:36.630 +0.290 16
  3 Jenson Button British McLaren 1:36.762 +0.422 14
  4 Nick Heidfeld German Lotus Renault 1:37.115 +0.775 17
  5 Sebastian Vettel German Red Bull 1:37.175 +0.835 14
  6 Fernando Alonso Spanish Ferrari 1:37.284 +0.944 11
  7 Vitaly Petrov Russian Lotus Renault 1:37.297 +0.957 17
  8 Felipe Massa Brazilian Ferrari 1:37.762 +1.422 12
  9 Kamui Kobayashi Japanese Sauber 1:38.059 +1.719 18
  10 Michael Schumacher German Mercedes 1:38.300 +1.960 20
  11 Nico Rosberg German Mercedes 1:38.307 +1.967 20
  12 Sergio Perez Mexican Sauber 1:38.448 +2.108 17
  13 Adrian Sutil German Force India 1:38.464 +2.124 16
  14 Pastor Maldonado Venezuelan Williams 1:38.597 +2.257 15
  15 Sebastien Buemi Swiss Toro Rosso 1:38.665 +2.325 14
  16 Rubens Barrichello Brazilian Williams 1:38.681 +2.341 16
  17 Jaime Alguersuari Spanish Toro Rosso 1:38.716 +2.376 14
  18 Paul di Resta Scottish Force India 1:38.864 +2.524 13
  19 Heikki Kovalainen Finnish Team Lotus 1:39.260 +2.920 19
  20 Jarno Trulli Indian Team Lotus 1:39.699 +3.359 15
  21 Jerome D'Ambrosio Belgian Virgin 1:41.215 +4.875 17
  22 Timo Glock German Virgin 1:41.414 +5.074 18
  23 Vitantonio Liuzzi Italian Hispania 1:43.147 +6.807 6
  24 Narain Karthikeyan Indian Hispania 1:43.383 +7.043 11