Red Bull and McLaren dominate on Friday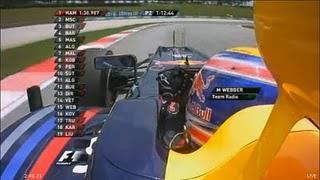 Mark Webber fastest on Friday
Mark Webber set the fastest time not only on Friday morning, but also in the afternoon session. Jenson Button was only 0.005 seconds adrift of the Australian with Lewis Hamilton and Sebastian Vettel completing the top four, all within a quarter of a second.
Like in the morning session was Michael Schumacher the fastest of the non Red Bull and McLaren drivers. Perhaps this is an indication that Mercedes have solved their issue from Melbourne, when the team was unable to make the upgrades of the car work together.
As seen  in the past does Ferrari not work on their qualifying pace on Friday rather than focus on their setup for the race. Therefore, the times set by Felipe Massa (+1.213) and Fernando Alonso (+1.707) should not be seen as revealing Ferrari's real performance.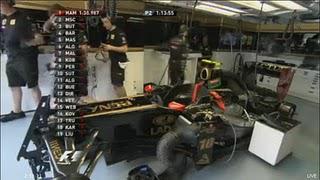 The Lotus Renault drivers spent most of the day in the garage.
After having only driven 10 laps in the morning, Lotus Renault again lost half of the afternoon session due to their suspension related issue. This is not a promising start into the weekend for the French team.
Even though having missed out on the morning session, Scot Paul di Resta again outperformed his teammate Adrian Sutil, continuing his good start into his Formula 1 career.
It looks like Red Bull and McLaren are in a league of their own, like they were two weeks ago in Melbourne. It is early days, though, and it would be unwise to write off Ferrari yet. As already mentioned, the Italian team usually drives with heavier fuel loads compared to their competitors on Friday.
It is unlikely that other then these three teams will be up front in tomorrow's qualifying. There is a possibility of rain on Saturday and also on Sunday, however, which could play into other team's cards.

Friday Practice 2 - Final Results

  Pos. Driver Nat. Team Time Gap Laps
  1 Mark Webber Australian Red Bull 1:36.876   24
  2 Jenson Button British McLaren 1:36.881 +0.005 30
  3 Lewis Hamilton British McLaren 1:37.010 +0.134 23
  4 Sebastian Vettel German Red Bull 1:37.090 +0.214 30
  5 Michael Schumacher German Mercedes 1:38.088 +1.212 26
  6 Felipe Massa Brazilian Ferrari 1:38.089 +1.213 31
  7 Nico Rosberg German Mercedes 1:38.565 +1.689 25
  8 Nick Heidfeld German Lotus Renault 1:38.570 +1.694 16
  9 Fernando Alonso Spanish Ferrari 1:38.583 +1.707 27
  10 Jaime Alguersuari Spanish Toro Rosso 1:38.846 +1.970 31
  11 Pastor Maldonado Venezuelan Williams 1:38.968 +2.092 25
  12 Rubens Barrichello Brazilian Williams 1:39.187 +2.311 30
  13 Vitaly Petrov Russian Lotus Renault 1:39.267 +2.391 17
  14 Kamui Kobayashi Japanese Sauber 1:39.398 +2.522 29
  15 Sergio Perez Mexican Sauber 1:39.603 +2.727 34
  16 Paul di Resta Scottish Force India 1:39.625 +2.749 31
  17 Adrian Sutil German Force India 1:39.809 +2.933 28
  18 Sebastien Buemi Swiss Toro Rosso 1:40.115 +3.239 31
  19 Timo Glock German Virgin 1:40.866 +3.990 24
  20 Jarno Trulli Indian Team Lotus 1:41.890 +5.014 19
  21 Narain Karthikeyan Indian Hispania 1:43.197 +6.321 15
  22 Vitantonio Liuzzi Italian Hispania 1:43.991 +7.115 14
  23 Heikki Kovalainen Finnish Team Lotus 1:44.886 +8.010 4
  24 Jerome D'Ambrosio Belgian Virgin     0