Mark Webber fastest on Friday morning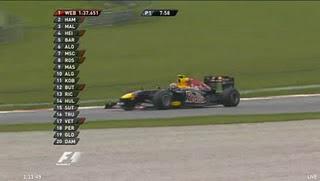 Mark Webber impressed with his speed in practice 1
Australian Mark Webber set an impressive lap time on the Kuala Lumpur race track, 1.665 seconds faster than second placed Lewis Hamilton. Sebastian Vettel was almost four seconds off Webbers pace down in seventeenth place.
Jenson Button was complaining over the radio that he did not feel comfortable with the car's handling. He ended the session in fifteenth place, more than three seconds off the pace.
Michael Schumacher ended the first practice session in third place, but already more than two seconds behind the leader. The seven time world champion was 0.855 seconds faster than teammate Nico Rosberg down in tenth place.
Force India's test driver Nico H체lkenberg made use of  his only opportunity this weekend to set his mark, setting the fourth fastest time on Friday morning, right in front of Pastor Maldonado in the faster of the two Williams cars.
Ferrari''s focus obviously was not on fast single lap times, with Felipe Massa sixth and Fernando Alonso ninth, almost three seconds behind Mark Webber.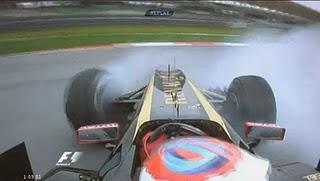 Vitaly Petrov losing the front of his car
in the last minutes of the session
Lotus Renault had a rather unproductive first practice session with Nick Heidfeld and Vitaly Petrov completing only 10 laps altogether. Heidfeld had to stop after his front left wheel had blocked. Petrov lost control over his car after the front left tyre went off the wheel.
Remember not to read to much into the results, since drivers may have set their fastest lap time using different fuel levels and tyre compounds.


Friday Practice 1 - Final Results
  Pos. Driver Nat. Team Time Gap Laps
  1 Mark Webber Australian Red Bull 1:37.651   22
  2 Lewis Hamilton British McLaren 1:39.316 +1.665 16
  3 Michael Schumacher German Mercedes 1:39.791 +2.140 29
  4 Nico H체lkenberg German Force India 1:40.377 +2.726 23
  5 Pastor Maldonado Venezuelan Williams 1:40.443 +2.792 31
  6 Felipe Massa Brazilian Ferrari 1:40.453 +2.802 22
  7 Nick Heidfeld German Lotus Renault 1:40.525 +2.874 6
  8 Rubens Barrichello Brazilian Williams 1:40.581 +2.930 21
  9 Fernando Alonso Spanish Ferrari 1:40.601 +2.950 23
  10 Nico Rosberg German Mercedes 1:40.646 +2.995 29
  11 Adrian Sutil German Force India 1:40.734 +3.083 21
  12 Daniel Ricciardo Austrialian Toro Rosso 1:40.748 +3.097 23
  13 Jaime Alguersuari Spanish Toro Rosso 1:40.770 +3.119 24
  14 Kamui Kobayashi Japanese Sauber 1:40.872 +3.221 27
  15 Jenson Button British McLaren 1:40.927 +3.276 16
  16 Jarno Trulli Italian Team Lotus 1:41.620 +3.969 21
  17 Sebastian Vettel German Red Bull 1:41.627 +3.976 18
  18 Sergio Perez Mexican Sauber 1:41.642 +3.991 24
  19 Timo Glock German Virgin 1:42.154 +4.503 18
  20 Jerome D'Ambrosio Belgian Virgin 1:42.540 +4.889 20
  21 Davide Valsecchi Italian Team Lotus 1:44.054 +6.403 18
  22 Vitantonio Liuzzi Italian Hispania 1:45.228 +7.577 20
  23 Narain Karthikeyan Indian Hispania 1:46.267 +8.616 10
  24 Vitaly Petrov Russian Lotus Renault 1:47.932 +10.281 4

Related Articles
Expectations for the Malaysian Grand Prix

What can we learn from Melbourne?

And the Winner Is...

Hamilton or Button?

Estimated Pecking Order for 2011

You can have a look at the archive for a list of all articles