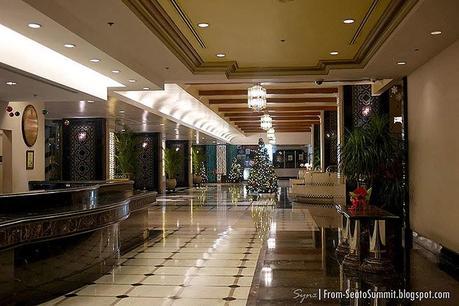 Looking for a place to stay in Kuala Lumpur? 
We had the privileged to stay in Hotel Istana during our trip to Kuala Lumpur, Malaysia. Hotel Istana is a luxurious and elegant 5-star hotel located in Kuala Lumpur's business and financial district triangle. This 23-storey hotel has 505 well appointed guestrooms and suites designed to suit every individual's personal and corporate needs. A walking distance to the main attraction of the city; the Petronas Twin Tower, the Bukit Bintang shopping and entertainment hub, the Kuala Lumpur Convention Centre, and the
China
town district.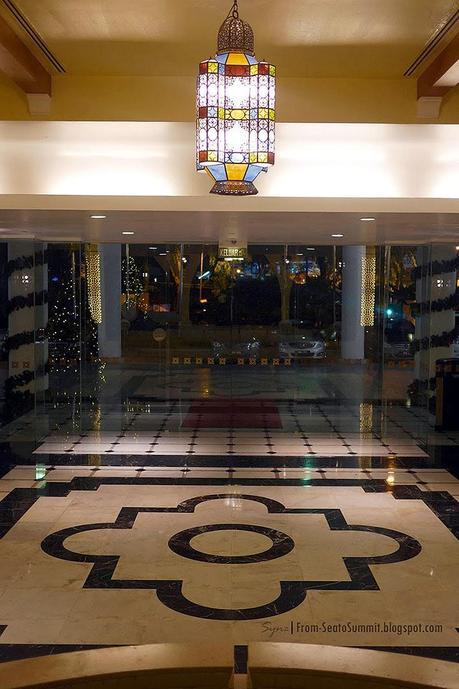 Luxury at its finest. The exquisite layout and design of this hotel is so obvious the moment you step inside. From the grand lobby to the carpeted floors, and all the way to their comfortable rooms.  Everything in this hotel speaks elegant.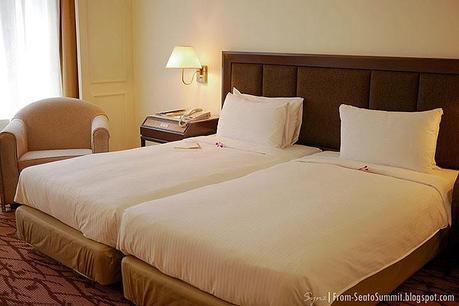 We stayed in a Deluxe room during our trip. Designed for 2 guests, this room is equipped with 2 single beds, flat screen TV, broadband internet access, mini refrigerator, writing desk, complimentary coffee, in-room electronic personal safe, and attached bathrooms with separate shower, bathtub and toilet.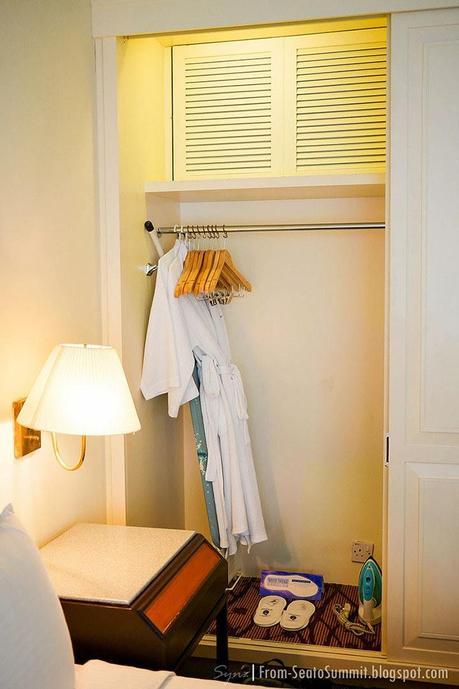 I can't help but be amazed the moment I step inside our room. It was spotless and in fine fettle. I wanted to jump right away on our bed. But like any other travelers do when they get inside the room, they explore. As I delve into every detail, I notice the ironing board and iron they placed inside the closet. I was thinking 'Yes! No crumpled clothes!'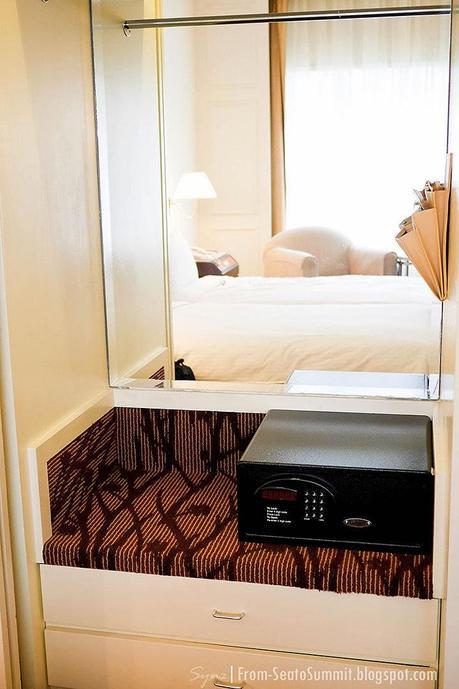 On the other side of the closet is an in-room electronic personal safe with a huge mirror behind it. In a way, I can feel how considerate this hotel is, towards their guest. If only I had loads of money and a handful of gold, I would surely use this safe. But I'm just a poor lass with a few bucks, so I just make use of the huge mirror instead.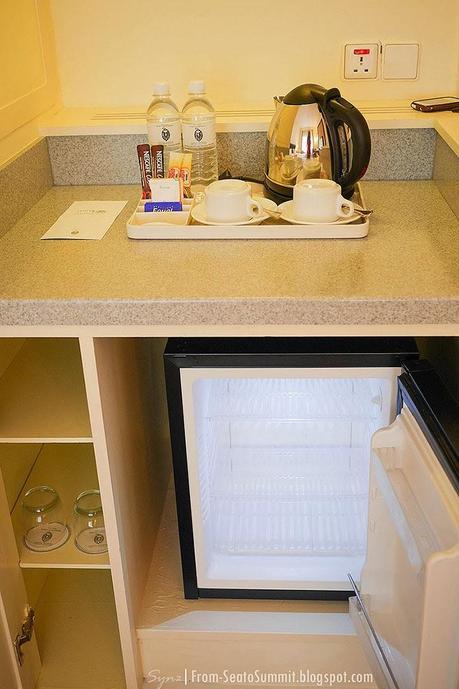 Another thing I love about our room is the mini fridge. This is really perfect, especially when you're staying for a long period of time. We actually use this thing to hoard our waters and sodas.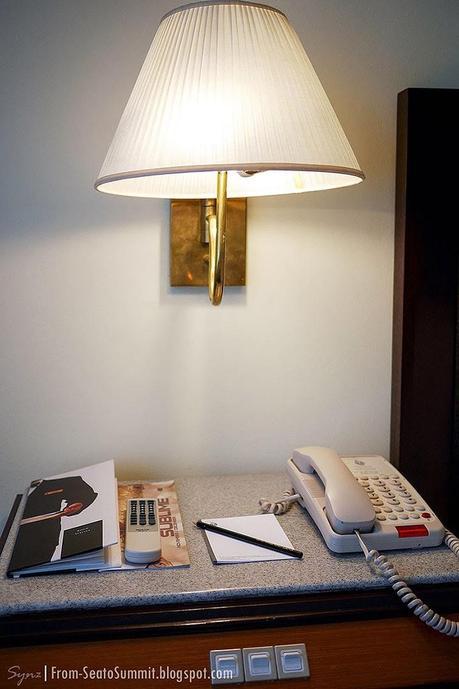 Wake up call is one of the best services they offer. It serves as our alarm clock, and keeps us on time with our scheduled activities for the day. In case you're wondering what those 3 switches are on the table, that is for the lights. No need to get up from bed to turn off the lights. All you have to do is reach out to these switches besides your bed.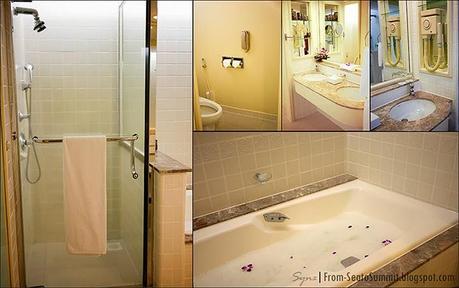 No need to worry if you left your soap and shampoo at your house. The bathroom is equipped with all your basic toiletry needs: shampoo, soap, brush, toothpaste, shaver, sewing kit and more . They also have a hair drier/blower, which makes my cousin really happy. 

We had the chance to try the breakfast buffet in their restaurant. It is located on the ground level of the hotel. They offered a variety of food. From an array of breads and cupcakes, to various Malaysian cuisine. Anything you want to have for breakfast is in there.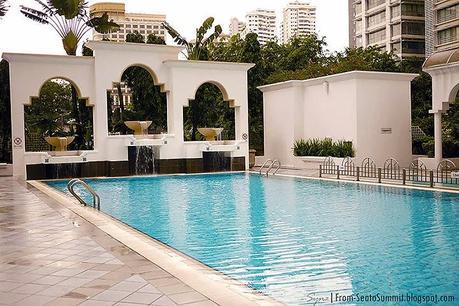 Their outdoor pool is located at the same level as the restaurant. In fact, you can access the pool from the restaurant and the lobby. It opens at 7:00 AM and closes at 8:30 PM. We wanted to have a quick dip, but with the lined up activities we have, it seems swimming at that time was impossible.
Other facilities and services of the Hotel includes:
Fitness Centre
Babysitting Service
Business Center
Drug Store
Laundry and Valet
Limousine Service
Luggage room
Medical Service
Shopping arcade
Wheel Chair (available upon request)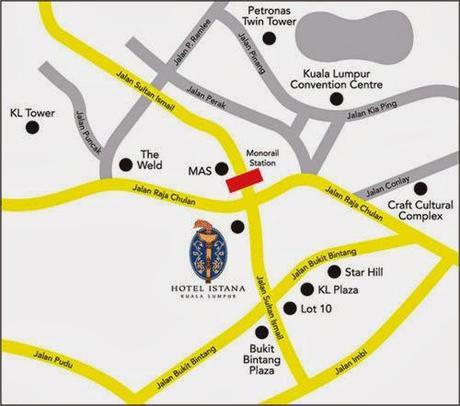 Hotel Istana
Check in: 2PM      Check out: 12NN
73 Jalan Raja Chulan, 50200 Kuala Lumpur, Malaysia 
Tel: +603 2141 9988 
Fax: +603 2144 0111
Room Reservation Fax: +603 2149 5500
Email:
[email protected]
★★★★★★★★★★★★★★
This trip was made possible by AirAsia Zest - The Right Way to fly and Tourism Malaysia - Visit Malaysia 2014. AirAsia Zest now flies to Kuala Lumpur Malaysia from Cebu Mactan International Airport. Visit www.airasia.com for flight schedules, promos and online flight reservation. Follow them on Facebook and Twitter.