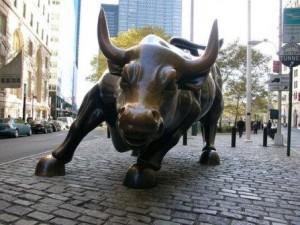 Karachi Stock Exchange (KSE) kept its bullish trend for second day and index closed just above psychological level of 15,800. Despite bullish trend trading kept lower.
KSE 100-Index improved by 91.48 points and closed at 15,845.30. On Wednesday market recorded a bullish trend but could not achieve the psychological and closed at 15, 753.82.
Trading at Karachi Stock Exchange took off well as main index surpass the psychological limit  of 15,800 within one hour. Highest trading activity was recorded in Pakistan Telecommunication Company Limited (PTCL) shares.
KSE 100-Indexat one time crossed 15,900 but moved between narrow margins during best part of trading hours. Second half of the day witnessed profit taking by investors and index returned to below 15900.
Overall trading remained low as 106.902 million shares were traded today compared with 132.835 million shares on Wednesday. Shares from 351 companies were traded. Out f 351 companies 173 companies recorded increase in their share value. Share price of 157 companies recorded a decline in value while 21 other companies witnessed o change in their share values.
Pakistan Telecommunication Company Limited (PTCL) turned out to be highest traded company on Thursday 15.960 million shares traded during the day. Other major companies were
Engro Foods Limited (5. 101 million shares)
Askari Commercial Bank Limited (4.706 million shares)
Summit Bank (4.264 million shares)
National Bank of Pakistan (3. 875 million shares)
Bank of Punjab (3.830 million shares).
Shares of dairy products firm Nestle Pakistan Limited gained highest value as their share price increased by 260 rupees. Nestle share closed at PKR 5,460 rupees per share.  Major loser in terms of share price was UniLever Pakistan. Price of UniLever share fell by PKR 445 rupees. The share closed at PKR. 9,750 rupees per share. Bullish trend of the market is expected to continue.