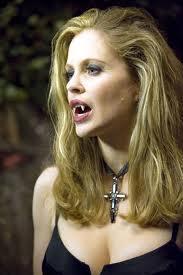 Kristin Bauer van Straten, who stars as Pam the vampire on HBO's True Blood, is passionate about many things. Here are just a few of them:
Banning Chimpanzee Experiments:
Recently Kristin left voicemail for members of congress asking them to support the Great Ape Protection and Cost Savings Act (GAPCSA) by attending a briefing on a bill banning chimpanzee experimentation.
"I'm calling to ask you to co-sponsor the Great Ape Protection and Cost Savings Act. I've always been fascinated by the incredible intelligence and rich social lives of chimpanzees. This bill would end painful, invasive experiments on chimpanzees, saving taxpayer dollars. I'd like to invite you to a briefing on the bill this Wednesday at 1:30 p.m. at the Capitol, room S.115."
Tony the Truck Stop Tiger:
Recently Kristin and the Animal Legal Defense Fund (ALDF) joined forces to try to get Tony the Tiger freed from ten years of captivity at the Tiger Truck Stop in Gross Tete, Louisiana. Her reasoning behind animals held in captivity is:
"One of the big problems for me with it is, with zoos, circuses, and Tony, is there's 10 minutes or 5 minutes when they're viewed by somebody and entertained and the tiger has to live there his whole life, 24-7, 365 days a year for that person who just drives through and for 5 minutes gets their picture taken."
And with the help of fellow actor, Leonardo DiCaprio, and a petition with 31,000 signatures this cause has come to fruition. A judge in East Baton Rouge District Court has sided with the ALDF and ordered the release of Tony the Tiger. Now after a decade, it has been advised that the lion see out the rest of his life in suitable conditions.
Yay for Kristin and her dedication!
Sources: PCRM.org -  Actress Kristin Bauer's Voicemail to Congress Asks for Ban on Chimpanzee Experiments
This Dish Is Vegetarian – Kristin Bauer of 'True Blood' talks about Tony the Truck Stop Tiger
ALDF.org – Victory in Animal Legal Defense Fund's Lawsuit to Free Tony the Truck Stop Tiger
(Photo Credit: HBO Inc.)