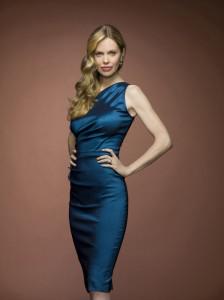 Kristin Bauer van Straten revealed via her Twitter account that she was heading to Vancouver to film an episode for ABC'S "Once Upon a Time."  According to ABC.com, "Once Upon a Time" is set in Storybrooke, a New England town full of fairytale characters who have forgotten who they are and have been thrust into the modern world.  While she didn't give away too many details, she did mention getting ready for the role (and who she will play!) on Tuesday:
"Just got to Vancouver & had fantastical wardrobe fitting! Not sure Maleficent's future But the present is pretty fun!"
Tvline.com's Meg Masters also revealed that Bauer will appear in the series' second episode which will air on October 30th.  She will be joining a list of regulars from other shows who will be making one-episode appearances.  So, not to worry, Truebies!  Her cameo does not suggest that Vampire Pam will be going anywhere any time soon.  Though information is light, fans won't have long to wait before seeing her take a scene-stealing turn on another supernatural show.
Are you excited to see Kristin Bauer van Straten in a new, fantastical role?  Do you think that this may lead to her being typecast in "supernatural" roles?  Share your thoughts below!
Sources:  TVLine, @BauervanStraten and ABC.com
(Photo: HBO)