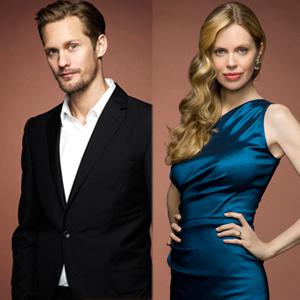 As we True Blood fans anxiously await the True Blood Season 5 premiere, E! Online caught up with Kristin Bauer to get her thoughts on what shooting the new season has been and what it's like to work with co-star Alexander Skarsgård (Eric Northman)  now that he's become a movie star.
On season 5, Kristin says that every season she thinks that things couldn't possibly get any better than what they've done for that year. But some how it does:
Every script I get I go, 'Oh my god, that's better than I thought it would be.' And wardrobe fittings, 'Oh my god, that's better than I could have imagined,'
But just because season 5 is shaping up to be the best yet, don't expect Kristin to give any details. E! Online reported that the actress was very tight lipped about giving specifics. She says she has an idea of what's going to happen but wouldn't be telling.  However, what she did say was that we should expect more fantastic outfits and awesome one-liners:
"We thought last year's gash in the sundress might be that point and apparently that wasn't!…It feels like it's just in kind. We're just continuing with all the goodness we've had before," Kristin continued about the naughtiness to come. "I don't know if you can get much worse than gash in a sundress, but we can certainly stay in the ballpark."
Speaking of the ballpark, True Blood co-star Alexander Skarsgård  has been knocking it out of the park lately as far as movies are concerned most recently with Lars Von Trier's Melancholia and the upcoming films Battleship, What Maisy Knew, and the East. So has Alex changed with all of those movies? Kristin says not at all:
"He's the same guy…We're buddies," she laughed when we wondered whether he'd changed since the beginning of True Blood. "But watch I'll go watch the movies and then get starstruck all of a sudden."
Aww! That's so sweet! What do you think about Kristin's latest thoughts on True Blood season 5? Tell me in the comments below!
Source: E! Online.com- "True Blood's Pam Talks Season Five "Goodness" and Working With Superstar Alexander Skarsgård!"
Image Credit: Art Streiber, HBO