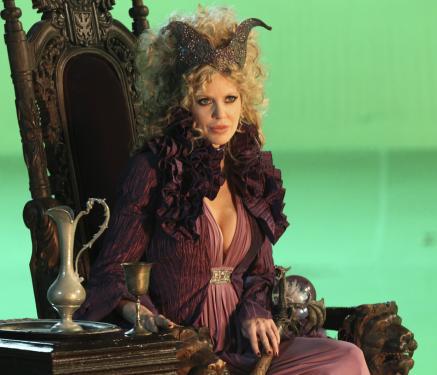 Once Upon a Time's second episode is just days away from airing and as we all know, it features a very special guest star–Kristin Bauer. The beloved actress recently spoke with TV Fanatic about what it was like to take on such an iconic part, working with a green screen, and how True Blood has opened up a whole new genre of parts for her to play.
Of the time she spent on the Once Upon a Time set, Bauer says that Lana Parrilla who plays the Evil Queen, drawn from the story ofSnow White was most helpful:
"Walking into this world I didn't know, Lana Parrilla was so helpful… "You hear it all the time, but it really is like playing tennis with someone and she was the best partner."
Kristin plays the role of  Maleficent on the ABC series and recent spoilers revealed that the Sleeping Beauty villianess would be the queen's oldest friend and enemy. Bauer compares the meeting of the two characters to that of two heads of states coming together and says that it is very different from any sort of relationship she's had as a human. So how did she take on the role of someone who frightened children on screen for decades, including Kristin herself?
"I always read the dialogue on the page and get an immediate impression," she explained, adding that she looked up clips of Maleficent on YouTube to help a bit with the portrayal, but in the end: "You have to remember they hired you for a reason. I tried to stick with that spark, whatever I possess as an actress, that I could bring to the part."
Kind of like the same spark she brings to Pam on True Blood perhaps? The character is probably one of the most beloved according to TV Fanatic. But Kristin says that while True Blood has opened up a whole other genre of parts for her to play, she doesn't actively seek them out:
"Now they are drawn to me," she laughed. "Alan Ball and HBO have opened up this other world for me, which is fabulous… I did a lot of comedy over the years, I had my FBI phase, my sex worker phases… but as an actress you love these kinds of challenges."

 
Don't miss Kristin on Once Upon a Time this Sunday October 30 on ABC!
TV Fanatic.com- "Kristin Bauer Previews Once Upon a Time Stint: Exclusive Interview"
Image Credit: ABC/EW.com