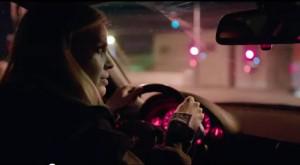 In February, we reported that Kristin Bauer van Straten (Pamela Sywnford de Beaufort) announced she would be doing a music video with Slash and director Clifton Collins, Jr via her Facebook page. The video was set to benefit the Los Angeles Youth Network which provides support services to homeless youth in Los Angeles including emergency shelter and more.
The video in question has finally been released! In it, Kristin plays the mother of a teenage girl played by AJ Milchalka (Of music duo Ali and AJ) who has left her home due to domestic violence and her mother is trying to find her and bring her home.
Watch the videos below and then click here or on the link the bottom to download the single. You can name your price and the money designated will be donated to LAYN. Kristin delivers a wonderful performance!
Buy "Gotten" here and donate to LAYN!
Source: Slash Online.com- "Gotten"
Video and Image Credit: Slash on YouTube
Tags: charity, Gotten, Kristin Bauer, LAYN, music video, Pamela Swynford De Beaufort, Slash