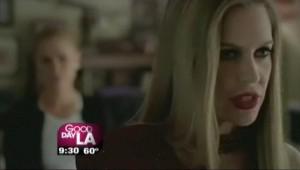 This week, Kristin Bauer van Straten, who plays lady vamp Pam, appeared on Good Day LA. A sneak peek of Season 4 was shown at the start of the interview which alluded to the fact that Pam's maker, Eric, may be missing in action.
Besides a slight wardrobe malfunction on Kristin's behalf and talk of Stephen Moyer's mishap at the Toyota Grand Prix, the talk turned to how Kristin finds working with all the good-looking male actors on True Blood. Her sarcasm was evident in her reply:
"Oh terrible, I mean all the guys are just torture on the show. I mean Stephen and Ryan and Sam. It's ridiculous."
The talk then turned to the psychology behind the vampire craze as well as how HBO manages to blend Sookie, as a human, into the surreal world of make-believe.
But for all the latest talk on Season 4, you will need to watch the video yourself:
Kristin Bauer Dishes on True Blood: MyFoxLA.com
Source: My Fox LA - Kristin Bauer Dishes on True Blood: MyFoxLA.com
(Photo Credit: HBO, Inc. via Good Day LA)