At last, the long wait is over. Now Cebu can have a taste of real fine doughnuts without booking a flight to Manila as Krispy Kreme opens its doors in the South.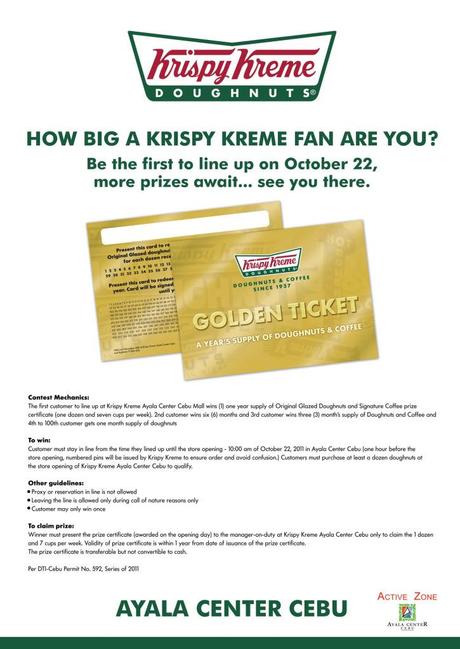 Mark October 22nd on your calendar because this grand opening can only become grander.
CONTEST MECHANICS:
The first customer to line up at Krispy Kreme Ayala Center Cebu Mall wins (1) one year supply of Original Glazed Doughnuts and Signature Coffee prize certificate (one dozen and seven cups per week). Second customer wins (6) months and 3rd customer wins (3) month's supply of Doughnuts and Coffee and 4th to 100th customer gets one month supply of doughnuts.
To win:
Customer must stay in line from the time they lined up until the store opening – 10:00 am of October 22, 2011 in Ayala Center Cebu (one hour before the store opening, numbered pins will be issued by Krispy Kreme to ensure order and avoid confusion.) Customers must purchase at least a dozen doughnuts at the store opening of Krispy Kreme Ayala Center Cebu to qualify.
Other guidelines:
Proxy or reservation in line is not allowed
Leaving the line is allowed only during call of nature reasons only
Customer may only win once
To claim prize:
Winner must present the prize certificate (awarded on the opening day) to the manager-on-duty at Krispy Kreme Ayala Center Cebu only to claim the 1 dozen and 7 cups per week. Validity of prize certificate is within 1 year from date of issuance of the prize certificate. The prize certificate is transferrable but not convertible to cash.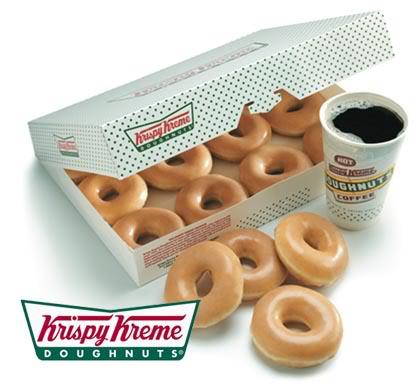 So, Cebuanos, brace yourselves for this life-altering event (ha! I know a couple of friends who'd be hanging out at Ayala Center Cebu more often now). See you at the Krispy Kreme Outlet at The Active Zone (near DC) at the Ayala Center Cebu on October 22.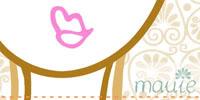 ——————————————————-
Krispy Kreme and all related insignia are properties of Krispy Kreme. All Rights Reserved.
Mucho thanks to Ms. Wilma Entera of the Ayala Malls Group for the information. I owe you a box of donuts. Hehe

NOTE: This post has been edited to include the mechanics.