08/29/2011 – by Cynthia Wright
Hours after pseudo-rapper Kreayshawn left the VMA's last night, her twitter was hacked, which led to the tiny rapper to delete her account. The hack consisted of a series of nude pictures of Kreayshawn, which quickly made the rounds around the internet.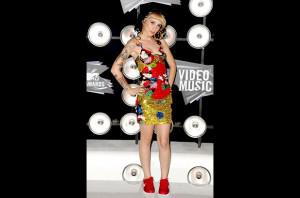 At the VMA Red Carpet
The hackers – who also seem to have their own Twitter page – let it be known that she was the first celebrity that they got to and they're more on the way. Not sure what this means for Kreayshawn's blossoming career – after all, she has been filmed high, her lack of freestyle talent is obvious, and her work ethic is questionable at best, with her blanking out on directing the Red Hot Chilli Peppers latest video.
"My twitter got hacked today by some anti-hollywood extremists," her blog reports. "They sent out wack ass tweets and promoted their odd message of anti-jew stuff and deleted my twitter."
Perhaps, this is the last nail in the coffin needed to send the "Gucci, Gucci" rapper back into obscurity OR perhaps, her PR team are going to spin this to her advantage. It is not like the music business is devoid of naked pictures. Most of those known in the game, were put on because of them! Unfortunately, for Kreayshawn – reviews of her pics have been lukewarm to downright devastating to say the least.