fiercebuddhist:
Great Folklore! I think this should be brought back to combat the Greed that comes with the season.

Originally posted on Mister Priddy's Marvels:
Happy Krampus Day everyone!
What is Krampus, you ask?
Krampus is part of the Christmas tradition in central and eastern European countries, dating back to the Middle Ages.  These countries have decided that Christmas ideals such as peace, love and goodwill towards man are complete nonsense and scaring the living crap out of children is far more fun.  According to the tradition, Krampus is a demon who accompanies St. Nick during his holiday rounds.  Krampus doesn't just tag along, Santa is actually friends with this dick.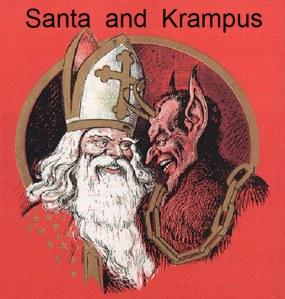 Loving stare.
As depicted in one early-twentieth-century postcard Santa doesn't have a sleigh and reindeer but is instead ferried about the world, dressed like the Pope, in the sidecar of a motorcycle driven by a red-leather -clad Krampus.  The motorcycle, by the way, would look more appropriate being driven by the villains in The Last Crusade than by beloved Christmas figures.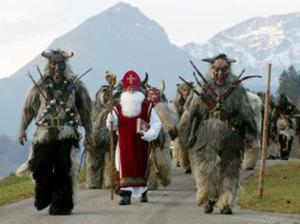 More photographic proof…
View original 568 more words