It is about time!!! I got my Bundle Monster Set!!!!
I also ordered 20 plates of the P series at Magnonails
.
I actually woke my hubby up due to my screaming
out loud this morning. This has been the longest
8 days of my life. I got the P series plates yesterday.
I can't wait to get my new camera and tripod so
I can take better pics, hubby says will make the
light box for me. Here they are: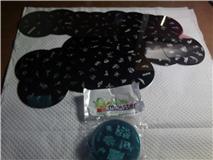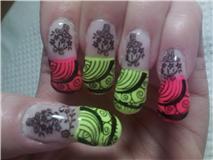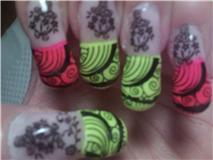 I loved this look. I love the bright colors, both are
Quirius colors with one coat of CC white.
I am using the XL rubber stamper now for
little designs not just the bigger ones.
It really helps with the slipping of the stamp
on the right hand. Which stamper do you prefer??
Thank you for dropping in. I am sad to see I lost
a follower for some reason. Oh well I am very happy to see you are
still here. I promise the pics will be majorly improved within
the next week or so. Future Shop estimates delivery for
the 11th of May. I know I should have bought the camera
long ago but I just could not afford both so I chose
the nails first. Oh well. Have a great day!!!
Nicky