Welcome to Kota Lama (Old City), one of district in Semarang, Central Java's capital which still preserves its Dutch colonialism heritage. From some sources I read, the history of Kota Lama began in 1678 when Amangkurat II, the ruling king of Mataram surrendered Semarang as a reward of VOC support to stop Trunojoyo rebellion. VOC then built a pentagonal fortress called Vijfhoek Fort which was said to be bigger than the fort in Batavia (François Valentijn on his book Oud en Nieuw Oost-Indiën/ Old and New East-India).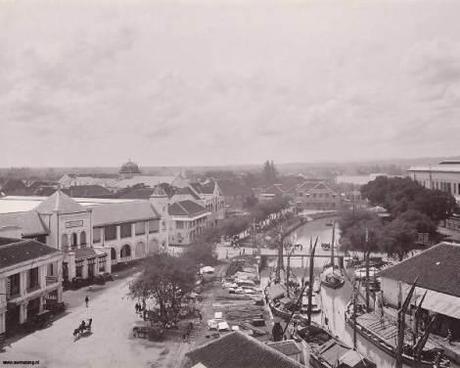 Kota Lama and Berok bridge in colonialism era. Photo taken from http://fariable.blogspot.com/2011/01/elemen-perancangan-kota-hamid-shirvani.html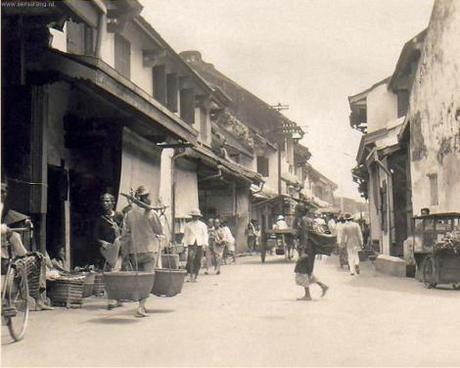 One picture of old Kota Lama. Photo taken from http://wisatalternatif.blogspot.com/2012/05/kawasan-kota-lama-semarang.html
This fort was built as military center and Dutch settlement (called De Europeesche Buurt) with one entrance gate at the north side and five watchtowers. Some canals were built at Semarang river and the urban development inside the fort was built in Netherlands architecture typical. Therefore this district is well known as Outstadt "Little Netherland". After the Dutch settlement expansion, Kota Lama grew more crowded  and Vijfhoek fort was then refurbished to be a bigger fort to cover the whole area.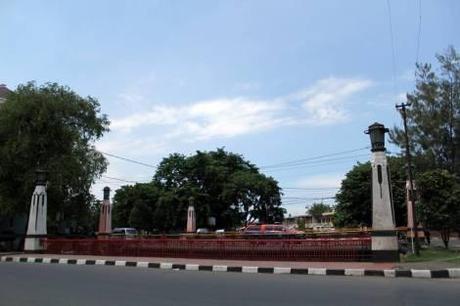 Berok Bridge, Used to be the southern gate of Kota Lama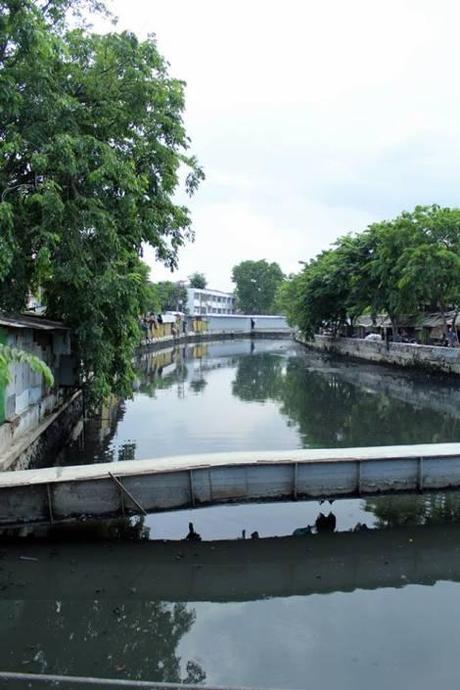 The canals
This bigger fort has three major gates, Berok bridge which become the southern gate (called  de Zuideer Poort), the western gate (de Wester Poort) and the eastern gate (de Oost Poort). Three of which were connected by de Heerenstraat street (now is Letjend Soeprapto street, where Blenduk church lies).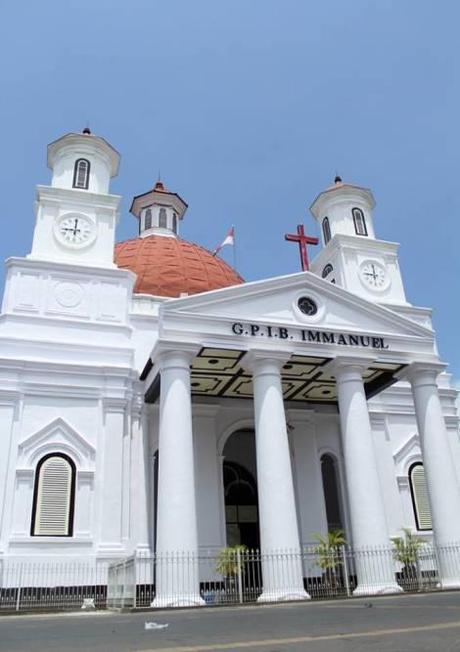 Immanuel or Blenduk Church. Blenduk derives from local language which means dome (Considering to its roof shape)
At 1824 the fort was broken down for city development and train railway project. De Europeesche Buurt also expanded to be a small independent town. There built some commercial buildings, banks, hotels and shops. Nederlandsche Indische Kerk or Immanuel Church or Blenduk church was renovated and open air field was built beside the curch for military parade or music performance (Srigunting garden).
Sadly, after Indonesian independence, some assets like the building, and Dutch trade business in Kota Lama which were nationalized were not managed maximally. The economic and trade activities did not develop effectively which made some residents leaving the district. This area remains an old historical site with desolated building which walls were fragile and covered by the roots. Some spots look slum and are not well maintained.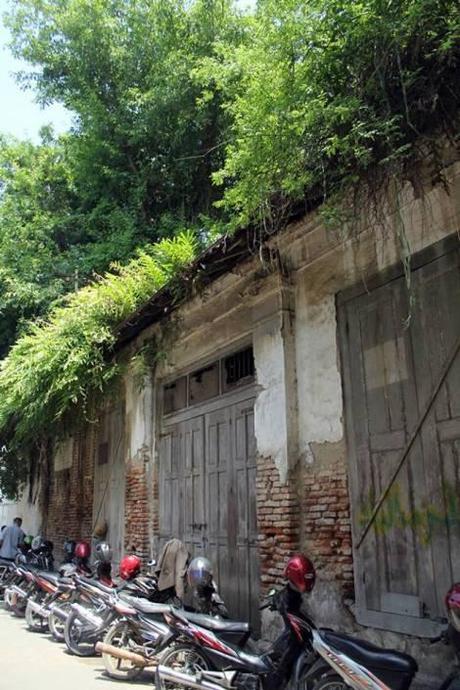 One of slum corner which becomes motorcycle parking lot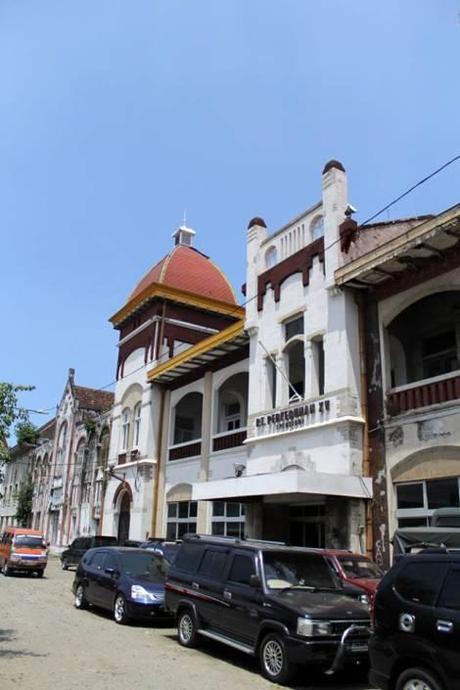 PT Perkebunan XV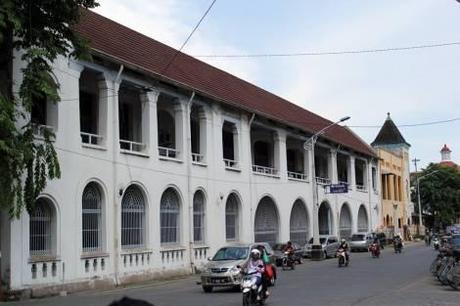 Some old building found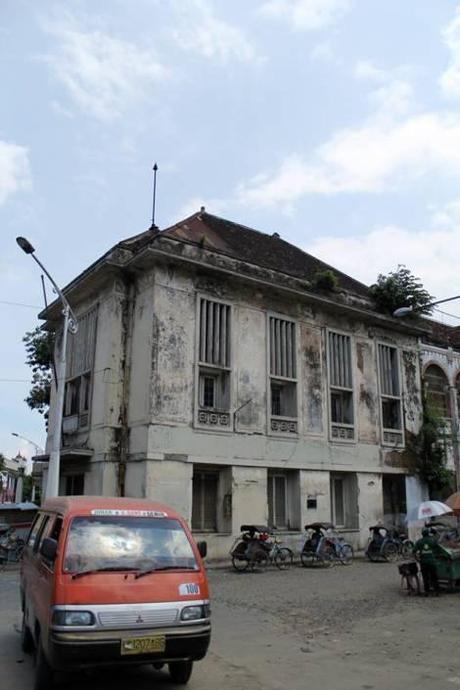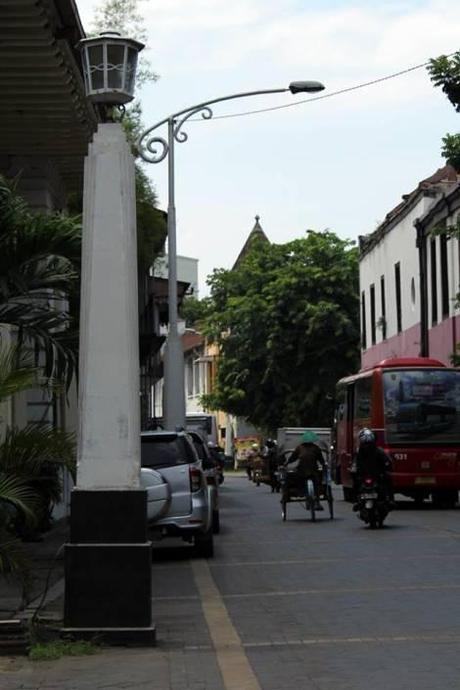 Nowadays, some old buildings are still operating and several activities might be found here in the morning til noon. Kepondang street is so busy with its chicken traditional market activities, Blenduk church is still used for religious worship, people are also found getting around PT Perkebunan XV building, two old buildings are revitalized to be Jiwasraya insurance building and Ikan Bakar Cianjur restaurant.