This dish contains three killer C's - Coconut Shrimp, Cole slaw and corn. Each done with a little extra umph to upgrade a few All-American summer time favorites. Crispy coconut shrimp served with a jalapeno pineapple apricot marmalade. Creamy avocado and macerated red onion cabbage slaw. Mexican style Parmesan and Cayenne pepper dusted corn on the cob. It's great for a light lunch with a  glass of white wine.  Or add a couple dozen cervesas mixed with a little Bob to have your guests floating on cloud nine in a Caribbean paradise. Everything can be made in advance and the shrimp stay crispy which means no last minute rushing on the hosts part! It also looks much harder than it is to prepare. This is how-to summer dinner party like a boss 101.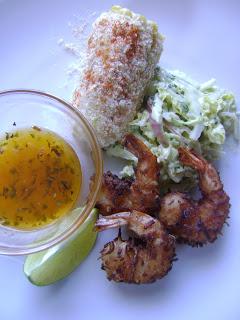 First: Buy the booze. I recommend a nice Reisling, a case of Corona or (for the fully functioning alchies) a stiff Dark n' Stormy (dark rum and ginger beer) should do the trick here.
Second: Try not to drink it all.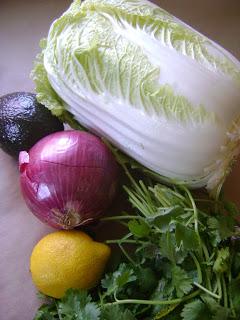 Third (The Other Shopping List):
Coconut shrimp 
 Shrimp - Thawed and mostly deshelled with tails remaining. The larger the shrimp the better but I'd plan on serving at least 6 jumbos per person at dinner and 3 or 4 at lunch.

1/2 bag or 7oz. of Sweetened Shredded Coconut

1 cup Whole Milk divided into two halves


1/2 cup corn starch - divided into two quarters
Marmalade (2-3 servings)
1/2 jar or about 5 oz. of pineapple and apricot mixed preserves

1 jalapeno - stripped of seeds and veins then chopped

1/4 cup ginger ale or better- ginger beer
 Avocado Cabbage Slaw

1 head cabbage ( I'm using Napa cabbage, but any green variety should do)

1/2 red onion - sliced thin

1 lemon

1/2 Avocado

1 handful of cilantro leaves - chopped

1/4 cup olive oil

1/4 cup vinegar

1 heaping spoonful of mayonnaise

1 tbs. red pepper flakes (optional)
Corn ( this is not a diet friendly veggie today...)

1 ear of corn per person for dinner or 1/2 ear for lunch - shucked clean

1 tbs. butter


Parmesan cheese for dusting

Cayenne pepper for sprinkling

Mayonnaise for slathering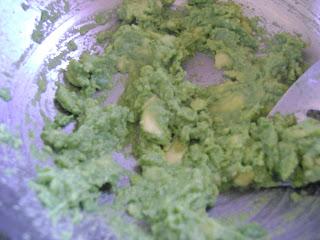 Fourth: Mash the avocado until mostly smooth. Some smaller chunks are okay but try to make it as paste like as possible.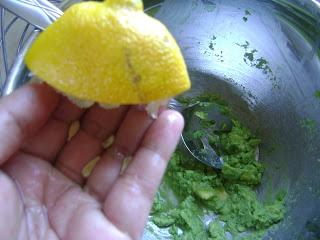 Cut your lemon in half and squeeze each side of its juice. In this picture I'm using my hand to keep the seeds from my avocado/lemon mixture, just letting the juice escape between my fingers.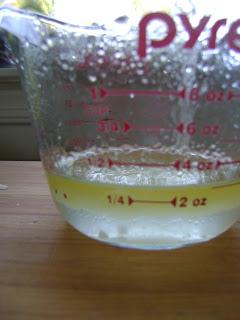 Add your olive oil and vinegar to the mixture.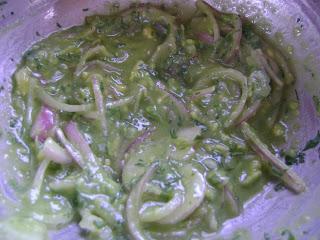 Now add your onions and cilantro. Stir the mixture together, cover with plastic wrap and set in the refrigerator for at least 30 minutes so the onions can macerate (basically "cook" and become soft in the vinegar).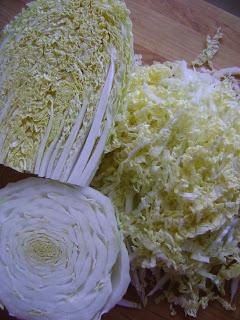 While your mix is marinating, thinly slice your cabbage into "coleslaw" type strands. 
Note: Save that cabbage stump for tomorrows blog post!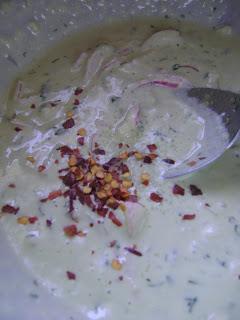 Fifth: Once your onion mix has had time to hangout, add the mayo and pepper flakes. Stir stir stir until everything is well combined.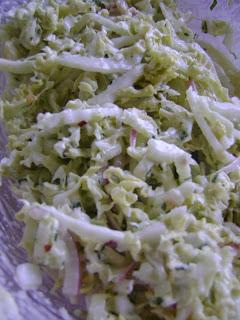 Toss the mixture with your cabbage and voila! Avocado cabbage slaw. Refrigerate until ready to use.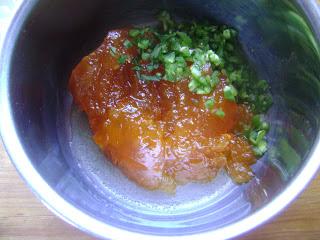 Sixth: In a saucepan, barely simmer your marmalade over low heat then add the jalapeno and gingerale/beer. Keep warm until ready to use or microwave your sauce when your ready for it later.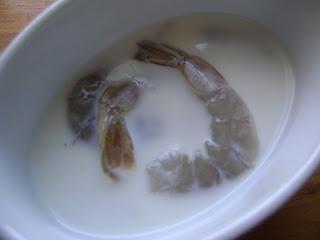 Seventh: Soak your shrimp in  a half of cup of milk.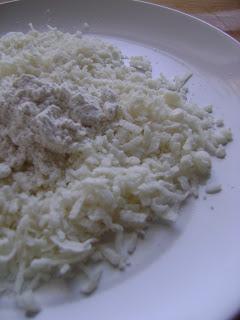 Eighthish: Heat a wok or fryer with at least 3 inches of oil over medium heat. Pour your shredded coconut onto a platter and mix in 1/4 cup cornstarch. Set up another platter with the other 1/4 cup of cornstarch. Then set up another bowl with 1/2 cup of milk. This is your fry station. 
1st remove your shrimp from its milk bath. 2nd: coat your shrimp in cornstarch 3rd: dip the shrimp in the reserved milk-only bowl 4th:coat your shrimp with your coconut mixture - be sure to press the coconut firmly onto your shrimp 5th: fry it up until your shrimp is golden brown then remove it from the oil and drain on a wire rack or dry paper towel. Repeat these steps until all of your shrimp has been coconutified and cooked.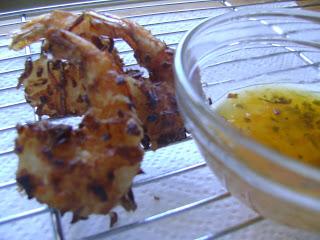 Ta DAA Coconut shrimp! Best served up with a side of your warm marmalade.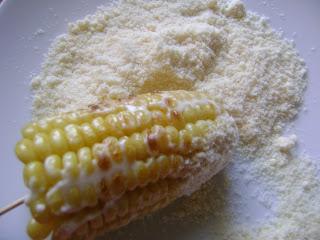 Ninth: Boil your corn in a few inches of water until just cooked through. Transfer the ears to a hot buttered pan and brown each side of the corn. Remove from heat and slather each ear in a thin layer of mayo then roll in the cheese. Dust each with a pinch of cayenne pepper. Then oooh eee oooh aah ahh dat stuff good. The corn is best served hot -no need to worry its super easy to prepare and can be made in one batch, it takes no time at all.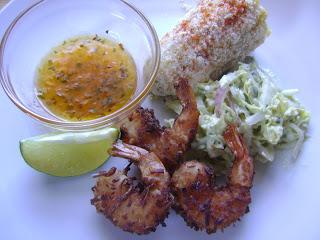 Finally! Once guests arrive and people start feeling the affects of Ingredient list #1, portion out some dishes and serve with a wedge of lime and a few more cocktails. Now your drinkin' and hostin' like a boss. This is now a good time to allow all of your friends and family to worship you and shower you with compliments and gifts. Enjoy your night of You-Da-Man fame and by all means milk it for all its worth. Enjoy!