A couple weeks ago, I had the opportunity to try Knockout! Panties.  You may have seen the post on the RGR facebook page. The DC Area based company offered a free pair of panties if you followed and tweeted about them on twitter.  They extended this offer to their first 500 followers.  I jumped at the chance to try them.  The panties are made with "No Trace" technology.  Their website said, it would keep your dry and comfortable by wicking away moisture, dry faster than traditional cotton and absorb odors. Did I mention that they are made in the USA?! I confess, I was very skeptical.  Powder is part of my daily routine because due to my pear shaped body I tend to sweat a bit and this hot summer weather isn't kind.  It's not something any of us ladies likes to admit or talk about but I'm sure I'm not the only one. I've tried tons of undergarments with similar claims.  How could I lose with free panties?  They even came in plus sizes! I followed and tweeted.  Within a few minutes I was sent a code to use for my free panties.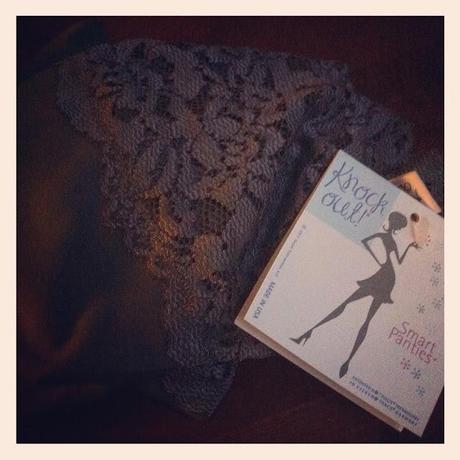 I chose the Lacy Brief in slate.  My panties arrived in just a couple of days! I was already impressed with the speedy customer service. The first thing I noticed when I opened the package was how soft the fabric was, especially the lace. Most of the lace on the lingerie I've bought is stiff, at least at first. I wear briefs under my skirts and dresses to give a smooth line. A few days later I decided to try them out. The temperature that day was close to 100 degrees and the humidity was ridiculous.  This would be the true test of the claims.
I wore the panties all day.  Even by mid day I was surprised that even with the sweat on the undies, my skin still felt mostly dry.   The end of the day would be the true test.  By that evening, the panties still had some damp areas but the crotch lining was dry and there were no sweat odors.  I was sufficiently impressed.  None of the other panties I'd tried before had lived up to their claims. These had! I've worn them a number of times since that first day and they are quickly becoming my favorite pair. They washed well and are still holding their shape and staying dry.
The price is a bit daunting but I've paid $15 - $20 for quality panties that don't have the benefits that these have.  You know I believe in quality products.  The benefits of Knockout! Panties are worth the price.More pairs are in my future.


NOTE - I received the panties from Knockout! Panties via a twitter promotion.  There was no expectation of a review. The opinions expressed here are my own.