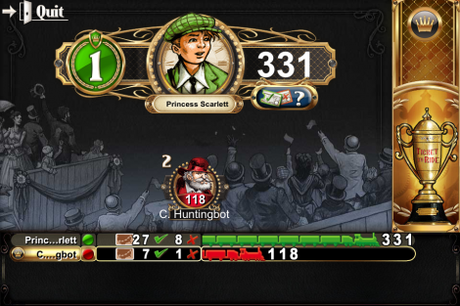 Best high score yet on Ticket To Ride!
Some days, a girl just has to spend a few days in bed and simply… mope.  Raising hand, that's me.
With as busy and exhausted as we've been traveling, I recently took a few days off to simply… recharge.  I've come to appreciate how much I love my bed.  Seriously, not even the highest end hotels I've stayed at in my lifetime are ever better than your own bed.  And sometimes I just need to retreat there.  To recoup.  To gather my thoughts.  To muster up the courage to cry my eyes out to the Lord and let Him know, this whole journey of my life is taking too many detours that I'm not exactly loving.  Don't get me wrong, Stephen and I have a wonderful life and I couldn't have asked for a more loving husband, but personally for myself and for us, there are still things I want us to achieve/accomplish/conquer/do in this lifetime that aren't going according to my plan.  Doesn't God know, with my tiny little human brain that I have great plans for how my life should be turning out?  But instead, He closes doors and says, "My child, come this different way with me. I won't promise it will be easy, but I promise I'll always be there by your side."  And like a child, I pout and have a heart to heart knock down drag out that I'm not happy with the detour of my plans.
I think all this is coming from the fact that when in bed, I've been playing too much "Ticket To Ride" on my iPhone.  It was one of those games I put off downloading and learning when Stephen was bugging me to play.  I know my obsessive overachieving personality, and when I get sucked into a game, I can't stop until I conquer it (hence how I finished all the levels of Angry Birds in a 2 week span over the holidays).  Well, my current iPhone game obsession is Ticket To Ride.  The point of the game is to create railroad tracks from one destination in America to another, according to which tickets you buy for your routes.  At the start of each turn, I have my route perfectly planned.  I can picture the exact places I'm going to build my tracks to get me to the destination in the shortest route possible.  But then the opponent (whether it Stephen, the computer, or my friend and fabulous Seattle wedding photographer Airika Pope kicking my butt) comes in and lays down their track, interrupting my perfectly planned route.  I yell in frustration, and whew, I get soooo worked up in ways I didn't know I could get mad at this stupid little iPhone game.  How DARE they get in the way of my plans?!?!  But in the end, it forces me to reanalyze the situation and find a different path to take.  One I would have never thought of before.  One that sometimes actually helps me end up winning.

And this all explains the story of my life right now.  It's a cliche saying, but true… "When you make plans, God laughs."  Why is it so hard to let go of those plans you make?  Why do we get so frustrated when life doesn't go according to plan and we're forced to reevaluate the situation?  Why is that after so many blessings that have come from unanswered prayers, do we still want to lay in bed moping when prayers don't get answered?
Despite some personal frustrations I'm going through right now as I surrender and say to God "Which way are we headed now?", somehow I'm able to find peace knowing it's His job to navigate the best route, not mine.
I love how Amy Grant says it in her song "Better Than a Hallelujah":
We pour out our miseries
God just hears a melody
Beautiful, the mess we are
The honest cries of breaking hearts
Are better than a Hallelujah
p.s. If you're a Ticket To Ride junkie like me right now, look me up on GameCenter at "scarlettlovesstephen".  Addicted. Too much.