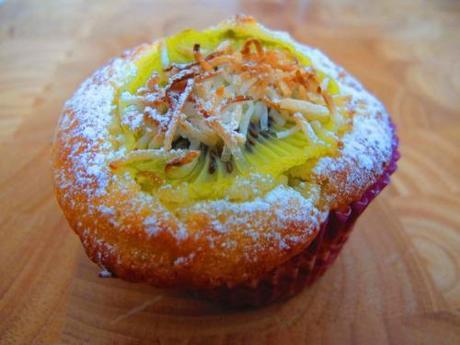 Why do you think we're programmed to want to eat things that are pretty?
Coconut muffins topped with kiwifruit and shredded coconut make a damn pretty muffin, don't you think? If George Clooney were a muffin, he'd be as photogenic as these muffins. Mmm… Clooney. I mean… muffin.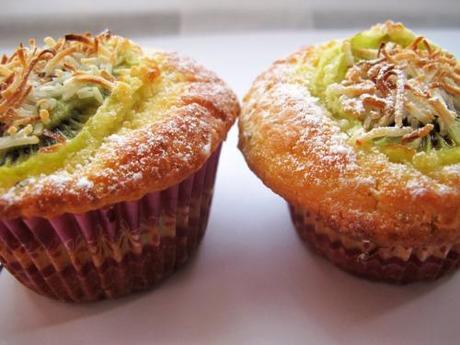 I've been pondering the 'pretty food' theory for awhile because the 'prettier' food is on my blog, and probably all blogs, then the more it tends to get viewed.
And when I was looking for kiwifruit muffins to make, all the ones which put the kiwifruit in the muffin ended up green, and unappealing.
So on top of the muffin it went.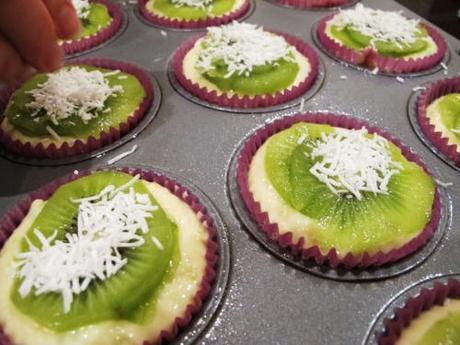 Top with sliced kiwifruit and coconut before baking.
Back to these muffins. Made with coconut and lime rind, the actual muffin part is light and fluffy. It contrasts nicely with the tangy fruit on top. In a way, it reminded me more of a cupcake than a muffin.
If you are not familiar with kiwifruit, they are a berry. Also known as a Chinese gooseberry.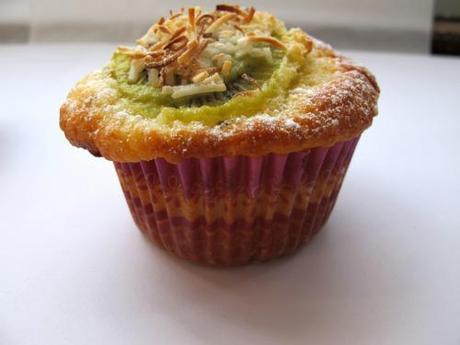 So pretty.  If only they came with George Clooney.
Enjoy!
Ingredients
2 cups (300 grams) self-raising flour
1/2 cup (100 grams) caster sugar
1/2 cup (45 grams) desiccated coconut
1 tablespoon finely grated lime rind
90 grams butter, melted
1 cup (250ml) buttermilk
1 egg
3 kiwifruit, peeled, thinly sliced crossways, to top
2 tablespoons of shredded coconut, to top
Method
Preheat oven to 200°C. Grease a 12 cup muffin tin or line with patty cases and spray with cooking oil.
Combine the flour, sugar, desiccated coconut and lime rind in a large bowl. Make a well in the center. Whisk together the butter, buttermilk and egg in a jug. Add to the flour mixture and stir until just combined.
Spoon into the prepared muffin tin. Top with kiwifruit and sprinkle with shredded coconut.
Bake for approximately 20 minutes or until a skewer comes out clean and they bounce back to touch. Cool on wire rack. Makes 12.
Healthy? 220 calories a muffin.
Gluten free? These muffins are quite crumbly as is, so I'd worry about converting them if you don't have a good understanding of gluten free flours.
Storage: They freeze well, otherwise best eaten within a couple of days. Store in airtight container.
Source: Taste.com