In 2012, Kathryn Beckwith– aka Kitty– released her first viral sensation video du jour in the form of "Okay Cupid," a song laced with drunk dials, mass amounts of giggling, and Frank Ocean references. At the time, Kitty– who was then known as Kitty Pryde– was a ginger-haired, suburban Daytona, Florida teen who worked part-time at the mall (at Claire's, no less). However, despite possessing the attributes to claim otherwise, Kitty had the audacity to call herself a rapper; a white, female, suburban, girly-girl, Bieber-lovin' rapper, but a rapper, nonetheless.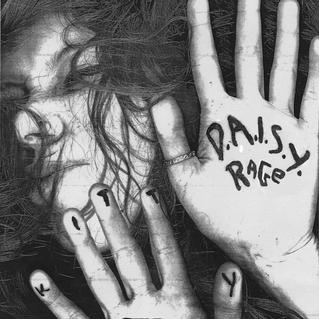 As you can imagine, "Okay Cupid" was met with a fair share of hostility upon its release. In fact, the video generated so much buzz that Kitty found herself on the receiving end of a New York Times profile. It was hard not to wonder: Is this girl for real, or is she simply pulling a fast one on us? It seemed that everything about Kitty– the hair, the black eyeliner, the Seventeen Magazine, the empty cans of Pabst Blue Ribbon– was simply too silly to be true. The only cracks in this theory were the moments of shocking cleverness that "Okay Cupid" displayed. Now, on her latest release, Kitty has only gotten cleverer.
At the release of Kitty's second EP, D.A.I.S.Y. Rage, we now find our heroine ditching her job at the mall and movin' on up to New York City. You can take the girl out of the 'burbs, but you can't take the 'burbs out of the girl; despite these major life changes, Kitty's style is still that unbearably sweet, Long Island Lolita-themed performance that's sure to have boys' hearts' going pitter-patter. Whether or not the comparison is flattering, there's something about Kitty that recalls Lana Del Rey. Both songstresses– who even look slightly similar– evoke the same sort of girlish longing and tongue-in-cheek innocence that sets tongues (and controversy) wagging.
However, Kitty's clear self-awareness is the essential element that keeps her music from totally sucking. She raps, but she's not really trying too hard to be a capital 'R' Rapper. She gets why people want to judge to her, even proclaiming, "Unable to discern if I'm the wunderkind or underdog, / So fuck it all, I'm the wonderwall" (on the loopy, dreamy "Dead Island").  She's also not afraid to get weird and unexpectedly witty, like she does when she references Wu-Tang Clan's "C.R.E.A.M." "Rash Rules Everything Around Me/ Getting drowsy/ Bena-Bena-dryl, Y'all," she raps on her own creation, "R.R.E.A.M."
Nod to Wu-Tang aside, the real source of inspiration behind "R.R.E.A.M." is anxiety, an issue that comes up again and again on D.A.I.S.Y. Rage. "I'd like to be the trending topic, the pound key/ Even though I break out when the hound me," Kitty admits. However, she displays excellent flow on "Skrillionaire" and "Scout Finch Bitch," two tracks which could quickly put harsh criticisms to rest.
Kitty may be the pride of the suburbs, but she just may be headed farther than even she could have thought. Doesn't anyone ever remember that Drake once starred on Degrassi? Years later,  the Canadian, half-Jewish, former child actor from– you guessed it– the suburbs of Toronto somehow manages to have the whole world screaming "YOLO." Therefore, if Kitty is anything like her namesake, she'll plenty of time to reach such heights.

3 / 5 bars