So, I've have a $20 Myer Gift Card sitting in my wallet for about… a month, maybe a little longer and I've never been too sure what I should spend it on.
I already buy things at Aēsop. I don't like much at Mecca Cosmetica (Yeah, so sue me!). Illamasqua… ehhh, I wasn't running out of anything in a hurry and I didn't want to blow $20 on something I already have. I did consider Benefit and Bobbi Brown, but in the end I just couldn't go past Kit Cosmetics and always wanted to try out the new Soup & Glory products.
One thing I noticed was they didn't have the Sugar Crush Body Wash and I'm really hoping that Kit get it in soon because it was the first product that got me interested in the brand in the first place.
I was really surprised what I got for $20 + an additional $3-something to make the difference.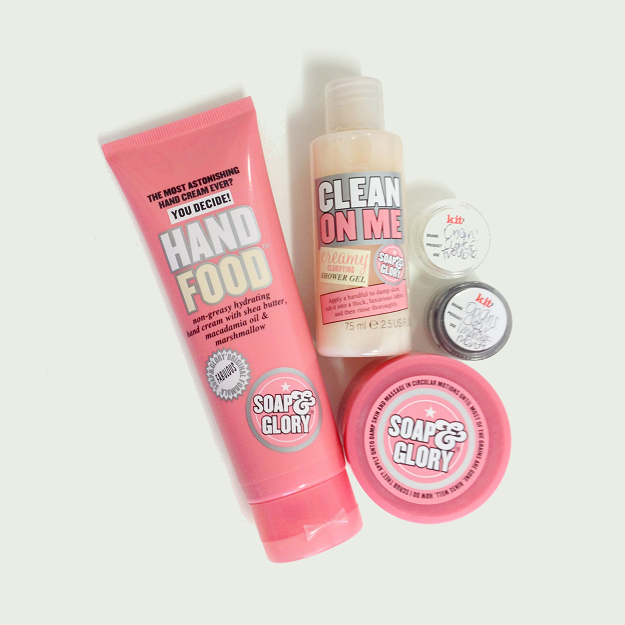 Hand Food Hand Cream, $11.95
ERMAHGERD! If you haven't tried this before you need to get it! I'm not even joking.
I love my hand creams, I rely on them constantly because I'm one of those people who wash their hands constantly (habit picked up through work) and I can't tell you how annoying it is for me to wash my hands and then put on a greasy hand cream after it. It makes my hands feel dirty again because everything I touch later then sticks to everything and I can't handle that.
But this… is not at ALL greasy and it smells AMAZING! Definitely get into it. You won't regret it.
Flake Away Exfoliator, $5.95
When I tried the tester in the store I was impressed with the exfoliating grains. I like my exfoliator to have a bit of roughness to it and there are a lot that are too soft. I love feeling that soft clean skin underneath after a good cleanse.
Very excited to try this one out.
Clean on Me Shower Gel, $5.95
I decided to get a small one of these only because my skin freaks out with shower gels. There is always something in it that makes my skin break out with eczema. This is why I tend to lean towards soaps.
Anyway, I figured I'd buy a small one and see how I go with it. If it doesn't work… meh, I'll live and I can always hand it down to someone else.
As an added bonus, my friend who works at Kit Cosmetics gave me two samples of the Origins masks that I've been eyeing off for months now!
I got one sample of the Clear Movements, which has charcoal in it and as we all know charcoal is excellent at absorbing bad toxins.
I've heard that if you have larger pores and suffer from black heads this will help out. I'm very excited about giving that a try.
And the other sample was recommended to me, Origins Out of Trouble mask, which helps with blemishes and breakouts. Although my skin doesn't break out often (maybe once a month, if that) this product also helps out with pores as well. Apparently it's one of their best sellers, so I'll have to see what the fuss is about.
Please let me know if you'd like to see product reviews on any of these products.

Have you tried Soap & Glory? What are your favorite products?
Have you also tried Origins? What are your recommendations?