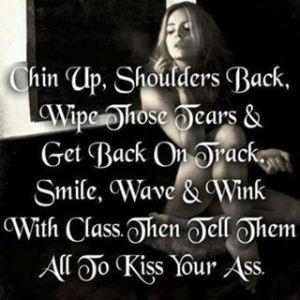 He isn't even in my life anymore and Mr. Whitewater is still finding ways to make me miserable. Clearly telling me I wasn't worth his time energy or feelings just wasn't enough for him! How could I have been so blind?! he isn't a fucking man he is a damn child! How could I have been so wrong about someone I thought was so perfect? He was never worth my tears that was for sure. I was willing to do anything to make what happened right, to earn his respect again, to make him happy and he had absolutely no problem trowing me to the curb like it was nothing. The son of the bitch still wears the $100 Hei Matau necklace I bought him though. He literally refused to be civil in any capacity even though we have to see each other and we have the same friends. Hell his friends (the ones he told thought I was crazy) still hangout with me, invite me place and talk to me all the time. They said the day after our big fight he came in telling anyone who would listen to him about it. That is not what he told me though, he told me a couple people saw a "bruise" and he only told them…. fucking liar. Lol he swore he wasn't like other guys bhaha he swore he was different. But that was just another damn lie because as soon as things got hard he peaced out. I forgot though he is fucking perfect and never makes mistakes!
And guys wonder why girls have issues with them…
KISS MY FAKE TANNED ASS YOU LYING PIECE OF SHIT!