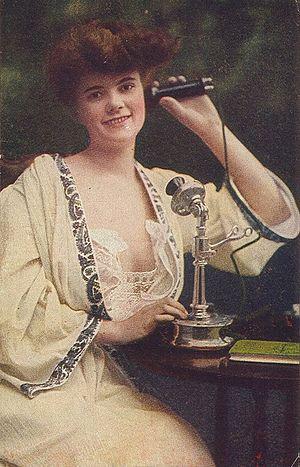 Image via Wikipedia
Sometimes I'm impatient – okay – a lot of times…
This is a flaw in my character I'm sure – it certainly doesn't bode well for certain relationships – like with my nephew who is shy and tentative – or my husband when he's just woken up, or a teller who is simply marking time rather than serving.
These things give me pause – help me take stock of myself – am I being unreasonable?
Recently however I was attempting to load some software and needed some help over the phone – I can hear your groans from my desk… and if this is a time for patience it was running short on my end.
I waited a long time before I got a live person – who was pleasant – and helped me – while she was doing the research work to find my account info etc. she did something different that made all the difference –
Instead of saying – "Please hold" or "Can you hold" or "I'll have to put you on hold" or even the basic "Bear with me" – she added one word that shifted the energy, made me think and eased any tension –
She said, "Kindly bear with me."
And so I did – kindly – and it felt good to be holding there kindly, patently – and she answered my question and the call ended well and I have good feelings about this company.
Can one word make all the difference? It did to me that day – so yes it can – it's worth doing to see – it's worth thinking about –
Kindly bear with me, kindly listen while I help you… kindly is a nice thing to be and behave –
Would you kindly agree?
Remember you create your day by the way you think. Kindly make it magnificent!
Blessings, Shawna
www.PeopleSkills.us