For the Top Chef fans out there, there was nothing quite like Season 1. While seven lucky chefs may have been crowned Top Chef over the past four years, there is really only one in my books. And when Harold Dieterle decided to open his first restaurant right around the corner from my first apartment in New York City, I definitely took that personally. Now that he has opened his second restaurant just a few blocks from my most current dwelling, I am convinced it is no coincidence - after all, I did just learn we both were married on the very same weekend this past year. Kindred food spirits, perhaps? It has definitely been a busy and exciting year for Harold as he opened a second venture where he has truly been able to display his culinary innovation and expertise that we all became so fond of through the television.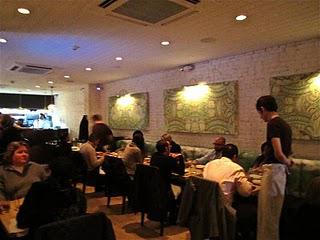 Kin Shop is named for the Thai word kin (to eat) as well as its relation and close proximity to Dieterle's original restaurant Perilla. It's name certainly does Thai food justice - especially on New York territory. I find it rare to come across an upscale Thai restaurant that still manages to embrace the true flavors of the region - even if this one does so with a sense of adventure. I only even label it upscale because the setting is actually appealing and quite cozy, all the while, still not too much of a scene. At most Asian restaurants in New York, I often find the atmosphere to lie at one end of the spectrum or the other. At Kin Shop, there is just the right balance of comfort and charm. Not to mention the right balance of both contemporary and classic Thai ingredients. While the menu offers dishes using very traditional Thai flavors, there are many elaborate combinations that demonstrate creativity from the other side of the world.
All of the dishes are meant to be shared - and no matter the size of them, they are perfect for it. We ordered several from each section and cleared the plates of each and every one. I highly recommend the warm s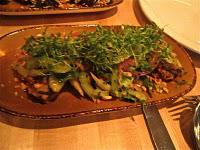 liced snap peas with diver seas scallops served with crispy shallots, pea greens, and toasted coconut. I also highly recommend the fried pork and crispy oyster salad topped with celery, peanuts, mint and a chili-lime vinaigrette. While the seafood adds a Western note to the dish, the Thai garnishes carry it right away from any form of familiarity. One of my favorite small plate options was the side

selection of perfectly prepared, grilled eggplant served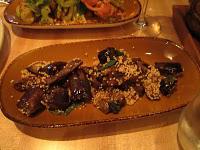 with

rice pearls, fish sauce and mint. For any of the dishes, there is always the option of adding more heat or even a touch of sour as pots of Thai chiles and white vinegar arrive on each table as soon as the first dish arrives. Take care when adding the chiles as there is no turning back once these hit your system. Although, just to be safe, it's best to order the delicious side dishes of jasmine rice and crispy roti as they may be the perfect solution to bring back feeling to any numbed lips.
But, it was the larger plates that we were all most excited about. I can't decide which noodle dish I liked more as we all headed back for seconds on both. The pan fried crab vermicelli noodles are tossed with yellow chives, roasted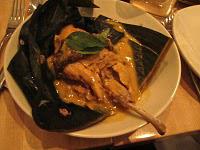 chili, and tatsoi (a mustard green) and the stir fried wide wonton noodles are served with chicken sausage, thai broccoli rabe and oyster sauce. Best to satisfy both the seafood and meat cravings in ordering both. I also highly recommend the rabbit leg which has been steamed on the bone in a wet banana leaf leaving the meat tender and moist. T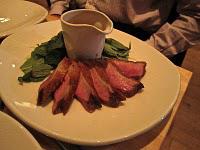 his sour yellow curry was an extremely unusual and flavorful dish presented with multi-grain rice, eggplant chutney and thai basil. And finally, for one more spicy dish, go for the duck. The heat of the red curried roasted duck breast is offset with crispy roti, green mango, fresh herbs, and tamarind water that should all be wrapped in crisp green lettuce leaves. This is an excellent dish to give the chopsticks a rest and get your hands in on the action.
And while Asian restaurants are never high on my dessert curiosity list, we couldn't pass up the steamed passion fruit pudding as this seemed to be the most classically Thai dish on the menu. However, leave it to Harold to mix it up and serve it with buttermilk sherbet. Ingredients don't get more Western than buttermilk! And I have certainly used my fair share when making cornbread, fried chicken and pancakes. If only I had known how well it could be paired with passion fruit sauce and steamed pudding. Perhaps I could I have been more than just a Top Chef fan!


Kin Sh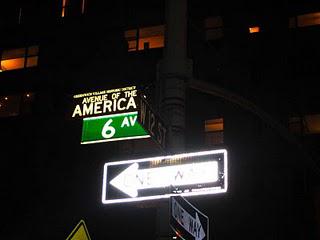 op


469 Sixth Avenue
New York, New York 10011
(212) 675-4295
website


FOOD RATING (Out of 5):