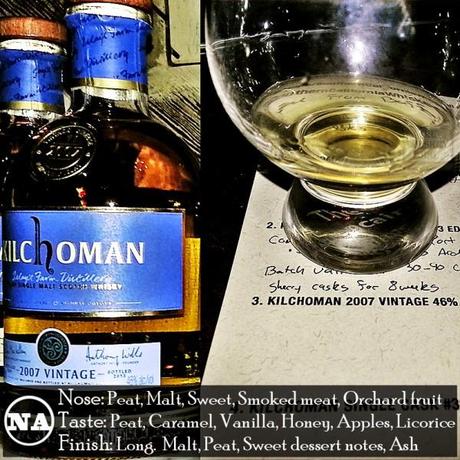 The Kilchoman 2007 Vintage was awarded 2013 Islay whisky of the year by Whisky Advocate and now I see why. Because, holy malted barley this stuff is good. Compared side by side I like the 100% Islay a bit more, but when it comes to Kilchoman it really is like splitting hairs because it's all so damn good.
Every Kilchoman I've tried (7) has a similar and delightful aroma and flavor to them that makes it difficult to pick one over another. It really does come down to nit-picking in order for me to say one is better than another because, for my tastes at least, everything that's coming out of them is utterly fantastic. I'm not being paid to say that by the way, it's just the truth.
Overall, this is simply another great whisky from Kilchoman. Sweetness seamlessly blends with earthy notes that are punctuated by brine mixed with some iodine. It's a complex whisky with so much going on it's kind of ridiculous and I would recommend it to anyone without a moments hesitation.
Kilchoman 2007 Vintage Review
ABV: 46%
Price: $76
Distiller: Kilchoman
EYE
Light amber
NOSE
Soft rolling peat mixed with malt and a sherry like sweetness waft up out of the glass followed by notes of smoked meat, light orchard fruit and a bit of brine. There is just a touch of honey which becomes much more present and apparent with a splash of water.
TASTE
Again that soft and silky peat, but this time it's accompanied by caramel, vanilla, honey and apples. Hints of red licorice and graham move in and out as it glides across the palate. There is a crispness in this dram that is unique to it alone in the Kilchoman lineup.
FEEL
Smooth and relaxed it frames the balanced picture the aroma and flavor paint.
FINISH
Malt moves up and mixes with peat, sweet dessert notes and a bit of ash on a long finish.
SCORE: NA – Had this at a Kilchoman hosted SoCal Whiskey Club tasting and didn't get to spend enough time to feel confident in a rating