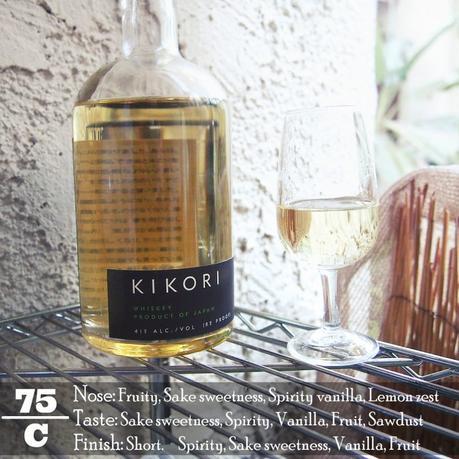 Kikori Rice Whiskey is actually just aged Shochu which is exactly what the Fukano whiskies are as well. The process for making shochu is a bit different than the process for making traditional malt, corn or rye based whisky in a few key areas. For starters shochu is made using distilled rice, sweet potatoes or other sweet vegetables like carrots; in rarer cases they can even use barley. For both Kikori and Fukano only rice is used since whisky has to be distilled from grains.
The next major difference is that instead of using the enzymes in malted barley to convert starch to sugar for fermentation they use a fungus (mold) called Koji. Once the Koji does its job it's fermentation as usual. The final major difference comes at the distillation part of the process. Since rice is a "cleaner" grain to distill shochu makers use a stainless steel still instead of a copper one.
Kikori Rice Whiskey Info
Region: Kumamoto, Japan
Distiller: Kikori
Mashbill: 100% Rice
Cask: Cask: ex-Bourbon, ex-Sherry & French Oak
Age: 3 Years
ABV: 41
Batch: 2
Price: $47
Kikori Rice Whiskey Review
EYE
Light yellow, like a Pinot Grigio
NOSE
Light and fruity with a lump of sake sweetness and spirity vanilla coming out to play first. Some lighter notes of lemon zest, marshmallows, spice and alcohol come through. Overall it's quite light with the sake sweetness dominating what's there.
PALATE
More sake sweetness, a strong spirity pop, some vanilla and fruit round out the core character. Bits of sawdust, spice and a weird raisiny (yellow raisins) character comes out. Very weird and very light. The Sake sweetness dominates and everything else comes out in whispers.
FINISH
Short burst of spirity alcohol, sake sweetness, vanilla and fruit.
BALANCE, BODY & FEEL
Not balanced, light body and a thin watery feel. If you're looking for "smooth" then this is your dram.
OVERALL
Kikori Rice Whiskey isn't "bad" per-say, but it is incredibly light and has a spirity nature that resides alongside the sake like sweetness all the way through. It's etherial and lacks any real oomph, depth or complexity, though it's miles above it's first iteration. That first release was some of the worst whisky I've ever had and to see this come along so well is encouraging.
About a year ago I sampled some Kikori from a small 100 – 150ML Kikori bottle and it tasted like sake perfume. It was alcohol driven and perfumy as all get-out. I was one of the 5 worst whiskies I've ever tasted, but this… this is different. This is better, sweeter and nowhere near as perfumy and aggressive. Worth a try if you've tried that first release or if you're a fan of super light sweet drams that kind-of remind you of sake.
SCORE: 75/100 (C)
*Disclosure: This Kikori Rice Whiskey was graciously sent to me by the company for the purposes of this review. The views, opinions, and tasting notes are 100% my own.