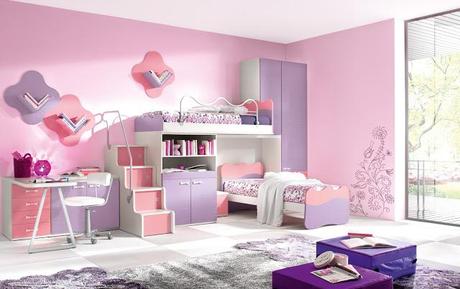 Growing up I was always allowed to design my own bedroom, colours, furniture etc, I went through a lot of random phases, from forever friends to farmyard, cow print to my now modern attire. As a child your mind can get rather excited with what to do, I used to love designing all the rooms on the sims, I literally lived on that game, but it kept the creative side of me alive and buzzing, I think it's important for children to express themselves artistically and let them have control of their own space, they'll enjoy it and get a sense of accomplishment too!
As Abbie gets older and has a big girl room, I will definitely encourage her to do it all up, even if she wants something i'm not too keen on, it's her room! I've come up with a list of necessities for your little ones room..
The bed
Sure you could just have a basic bed, but why not go for a fun and yet affordable children's bed? From racing cars (you've seen that episode of friends right, joey in the mattress store...yeah), all through to princess beds! Something unique and different is always good! Try and get some lovely bedding to match too with some fluffy cushions and their favorite cuddly toys!
Childrens Desks
I had one in almost every bedroom Ive had (I've moved house 10 times...), it doesn't mean they have to have a computer in their room, but it can be used as a play area, somewhere they can do their homework and lots of other things too!
Toy Box
Don't worry about spending a fortune on a proper storage box, why not make your own? There are lots of fab tutorials online you can follow which require minimum tools! Or you could do up and existing piece of furniture you have and create your own too? It's amazing what a lick of paint and some TLC can create, plus you can get your little one to help too, give them a paintbrush, stickers, glitter, whatever they like, sure it might not 'match' the rest of their room but it's something they've created themselves :)
Wall art
Defintiely one of my favorite things EVER, adding a special piece of wall art or sticker can really change the asthetics of any room, but when it comes to their room they will love creating their own woodland, princess castle or even a forest or their favorite tv characters! Again, there are plenty of shops online with fantastic choices!
What theme is your little one's bedroom?