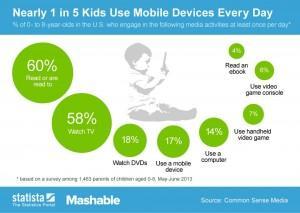 An article that was published recently on Mashable highlights the fact that as many as 1 in 5 (or 17%) of kids uses a mobile device every day. In comparison, only 14% use a computer and 58% watch TV.
It's interesting that kids are using mobile devices so much. The data that was collected to come up with these statistics was from kids ages 0 to 8. So we're not even talking about middle or high school kids who could realistically purchase or take care of these devices themselves. This is indicating that parents provide these devices for kids to use, right?
Well, not necessarily. Lots of school districts are implementing the use of tablets in the classroom. Entire districts are purchasing tablets to be used by students in the classroom. They can be used for anything from reading to math to learning games. The iPad has so far had a lock on the school-tablet business, but other tech companies are starting to target schools as well. Districts or schools can pay for these devices themselves, or they can apply for state or nationally funded grants to supply them to students. There have been quite a few positive news stories that have highlighted the benefits of new technology in school.
Another thing that kids use mobile devices for is to watch television. With more and more people cancelling their cable in favor of using Netflix, Hulu, or other similar services to watch TV, mobile devices are making TV more accessible. Nearly all of the big networks like ABC, NBC, and Fox have apps for mobile so that their shows can be watched virtually any time. Even some paid channels are adding apps, including HBO and the Disney channel. Kids can take advantage of watching TV on the go as well as at home.
Research also shows that more and more kids are learning to use mobile devices before they can even talk. Toddlers in particular are quickly learning to play games and listen to music on mobile devices. The good news is, both Apple and Android platforms offer lots of apps that are geared towards young learners and aren't just a big time suck. Games that include learning letters, counting, and puzzles are popular for young users.
So are kids too ensconced in technology? I suppose everyone's opinion will be different – just like when it comes to kids and social media. But the truth is our world is getting more and more digital by the day. I don't think it's a bad thing that kids are learning to join in at a relatively young age.
Megan Totka is the Chief Editor for ChamberofCommerce.com. She specializes on the topic of small business tips and resources. ChamberofCommerce.com helps small businesses grow their business on the web and facilitates connectivity between local businesses and more than 7,000 Chambers of Commerce worldwide.