As a very busy
mamá
I choose what events and networking functions I attend very carefully. 
With one child you can still manage to do almost everything and easily arrange a sitter or have my husband come home a bit earlier. With two children the game changes and it gets a bit more complicated to find a sitter — besides she is so little that I don't leave her with anyone but my husband or mother. 
On Wednesday I (happily) headed out to suburbia to support friends Micaela and Claudine for the launch party of their book Kid Trips at Sweet City Desserts in Vienna which was sponsored by Washington Family Magazine. 
My mother was going to babysit, but at the last minute she wasn't able to. I could have just not gone, but I was determined to get out for some much needed adult time to catch up with friends — for which I put on proper makeup (
ohhhhhhh
yah!) and pantyhose (going crazy now!) Make no mistake this evening out was MEGA.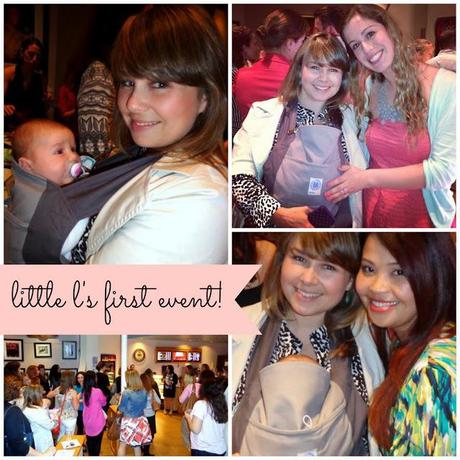 Images: Souny West, The W Salon
In the end Little M stayed with 
tata
 (my father) and Little L came with me — and we had a GREAT time! Some were surprised I brought a baby, but she was sleeping away in her baby carrier. Needless to say, SHE was the best accessory I have ever worn and I was thrilled to introduce her to everyone.
I'm not going to lie, going with the baby required work and some planning (do I take the stroller? use the carrier? how many bottles? etc) but the point is I made it work for me at that moment. Hey, it's how us busy mamas roll. You know what I'm talking about!
Anyway I
do
have a reason for mentioning all of this — I was invited to attend the Working Women's Luncheon as a blogger for their
Mom Achiever
networking and presentation lunch on the
8th of May
. The event focuses bring together women business owners and professionals to discuss how we balance kids, work and family with main speaker Kathleen Matthews, former Washington, D.C. news anchor and now Chief Communications Officer for Marriott International.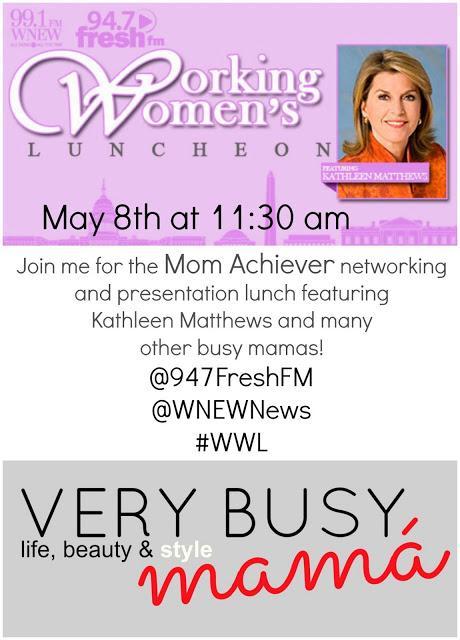 Joining Kathleen Matthews are:
Michele Woodward
— Executive Coach
Sara Armour
— Comedian
Kelly Collis
—The Tommy Show Co-Host 94.7 Fresh FM
Kathy Korman Frey
— Founder, Hot Mommas Project (now THIS I need to be a part of!)
Jenn Haber
— Managing Director, Qorvis Communications
Heather Rosen
— Franchise Specialist, FranNet
Amy Morris (Host)
—
Morning News Anchor, All News 99.1 WNEW
A pretty varied line up and one that I am looking forward to. Make note, for this I will NOT be taking the baby!
I have been given a complimentary ticket, but I am not being paid to attend or to promote — I simply think this is a wonderful event. I am extending the invitation out to other busy mamas in the D.C. area who would like to join me and enjoy a lunch that does not include any kind of macaroni
or
cheese or drinks in the form of a juice box.
Tickets are $35.
Now — what to wear, what to wear?!