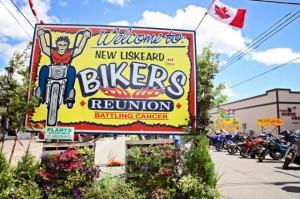 Biker's Reunion Welcome
Motorcycles and motorcycle rallies go hand in hand.  In 1938 the world's largest motorcycle rally, Sturgis, was founded.  The annual event attracts hundreds of thousands of motorcycles to South Dakota each summer.  In 1999 Barry Phippen held a small event called the Biker's Reunion as part of Phippen Signs', his sign business, 20th Anniversary in New Liskeard, Ontario to raise money for cancer.  The response to this one day event was much more than anyone, particularly Barry and his staff who organized the first event, could've anticipated and 5 years later in 2004 a much larger annual event was launched at the New Liskeard Fairgrounds.  After 10 years the New Liskeard Biker's Reunion is well on it's way to becoming the Sturgis of the north!
Last summer the event attracted over 6,000 bikes and 25,000 spectators and raised $118,000 for the Cancer Care Unit at Temiskaming Hospital, making the total raised to date $815,000.00.  As it enters it's 10th anniversary weekend one thing is certain about the Biker's Reunion.  Rain or shine the bikes will come and you can bet that the total raised will surpass that of last year.
The event itself is free to all spectators and offers live entertainment throughout the weekend.  This year's feature acts include:
Click to view slideshow.
As it is a motorcycle event there are plenty of motorcycle activities as well including a people's choice show and shine and a chance to win this beauty!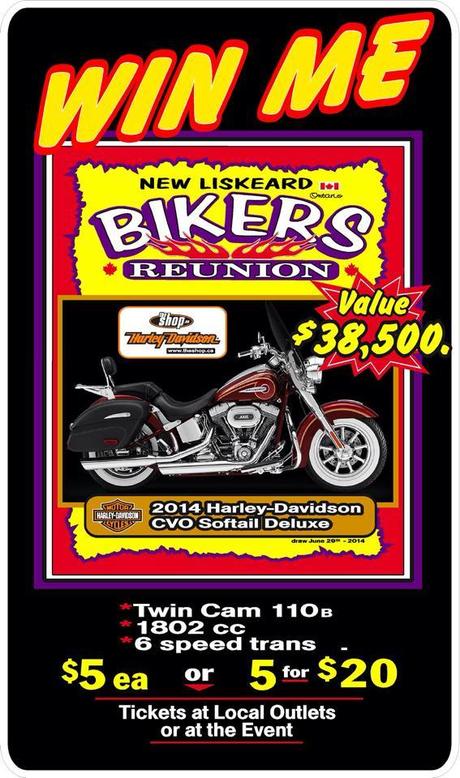 Annual Bike Draw
Once again this year there are two rides.  The early bird ride runs from the Festival grounds to Hills Lake Fish Hatchery (west of Englehart, Ontario) departing at 1pm on Friday June 27.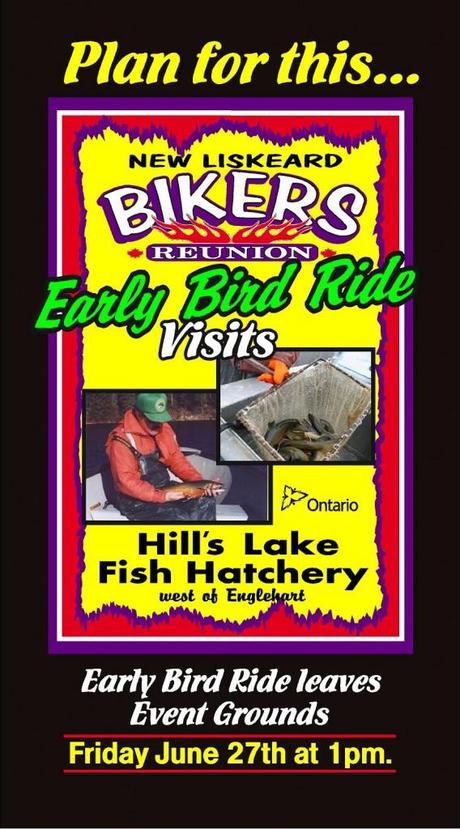 Early Bird Ride
And then there's the Freedom Ride, the highlight of the weekend.  The Freedom Ride is a 120 km journey through the heart of Northern Ontario dedicated to Barry Phippen's older brother Terry, who succumed to cancer just two months after completing the ride in 2005.  The Freedom Ride travels through the Northern towns with a stop at the Temiskaming Hospital where bikers give out roses and care packages to every patient, nurse and cancer survivor. All of the highways are blocked for the ride, so everyone can stay together as a unit. The ride takes approximately 3 hours to complete.  The streets and highways are lined with supporters and spectators who want to get a glimpse of '12 Miles of Bikes'.  I can tell you from someone who has watched this ride pass it is one of the most emotional things I have ever seen.  My goal is to someday take part in the ride myself, just to say that I was part of it.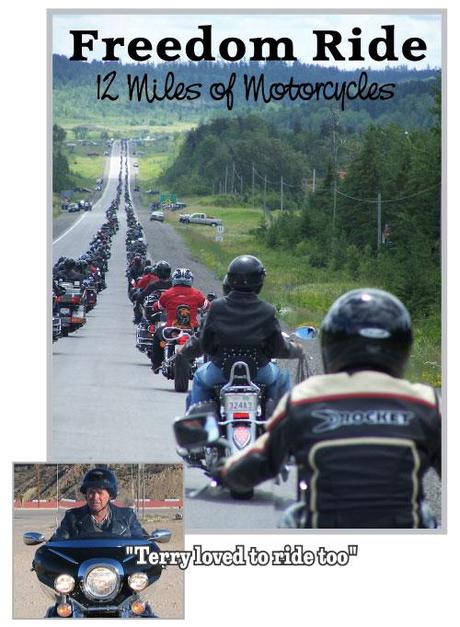 Biker's Reunion Freedom Ride
There is something for everyone at the Biker's Reunion, if you've never been add it to your list of must attend events.  On-site registration opened earlier today and the full schedule of festivities start Friday afternoon.  For more information visit: www.bikersreunion.ca
Here is just a taste of the Freedom Ride from 2010 as it reaches the top of the bridge in New Liskeard from the 2010 Biker's Reunion.