The Red Sox started off the summer with a bang on Wednesday night, as they took out some recent frustrations on the struggling Miami Marlins, and coasted to an easy 15-5 win.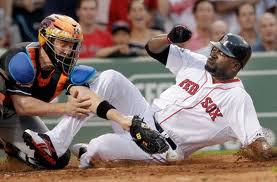 Felix Doubront struggled early, allowing Miami single runs in the first and second innings. But the Sox bats came out firing, beginning with a three-run home run by Mike Aviles in the bottom of the second.
The Sox continued to hammer away on Ricky Nolasco, as Cody Ross doubled in three in third, making it 6-2. The Marlins added two in the fourth to cut the Sox lead to two, but then the boys from Boston put the game on ice, capped by a grand slam by David Ortiz (his 18th dinger), and a solo shot by Jarrod Saltalamacchia to dead center in the fourth. Will Middlebrooks came off the bench late to hit his 7th home run in the 8th inning.
Doubront went six innings, and allowed four runs on nine hits and struck out four (and walked none), for his eighth win of 2012.
It was the fourth straight win for the Red Sox. Toronto's loss means the Sox are now out of the cellar in fourth, and trail New York by six games, and Tampa Bay by three for third place. Daisuke Matsuzaka will try to get the Red Sox a sweep over the Marlins at Fenway on Thursday night.