Dates and Almonds ladoo or khajur and badam ladoo is easy sweet recipe which prepared with chopped dates, almonds and coconut flakes. It's a best option for winter season. For this recipe, no needs to add extra sugar quantity and very healthy sweet recipe. You can add more flavorful nuts like cashews, peanuts, pistachios which you prefer.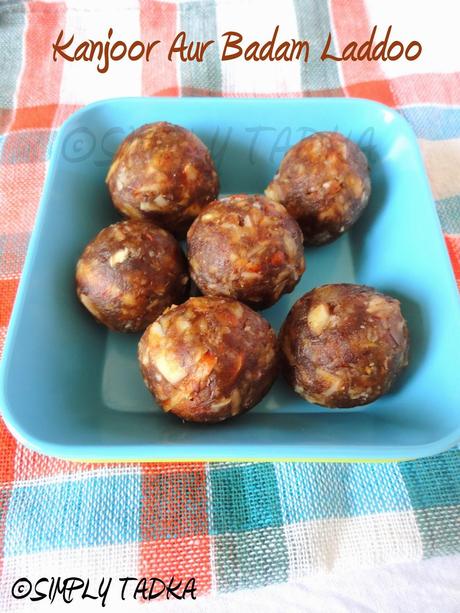 Preparation Time: 10 Minutes
Cooking Time: 12 Minutes
Servings: 4
Category: Indian Mithai
Ingredients:
1 Cup Dates, seedless and chopped
1/3 Cup Almonds, finely chopped
1/4 Cup Coconut, grated
1 Tsp. Cardamom Powder
1 Tbsp. Clarifying Butter/ Desi Ghee
Instructions:
Clean and Chop the dates and blend it with little water until to smooth.
Heat the ghee in pan and cook the date paste until to water evaporated.
Add chopped almonds, grated coconut and cardamom powder.
Mix all things together and cook for 2 minutes more.
Remove the mixture into plate to cool at room temperature.
Grease the palm with ghee and make small lemon sized laddoos.
Keep this laddoos in airtight jar for 3-4 days.
Notes:
You can add pistachios, cashews and more nuts which you like it.
Dates are already sweets, so there is no need to add sugar.
Tags
: How to make dates and badam roll, khajur laddoo recipes, dates recipes, easy laddoo recipes, Indian sweets recipes, mini date rolls, almond recipes, indian mithai recipes, healthy laddoo, khajoor badam laddoo, date almond rolls.
Enter your email address:
Delivered by
FeedBurner