I'm back from the weekend at Keysoe, and I have to say it was pretty successful! I was on at a crazy time of 8.40pmon Saturday night, so we decided to leave on Saturday morning. The weather was absolutely amazing and we had a really smooth 3 hour drive over to Bedford.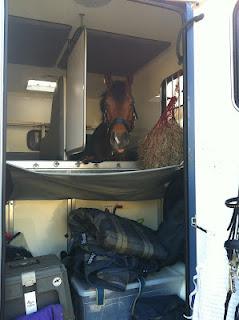 Seb ready to head off on the journey :)
Seb was in one of the portable stables, which as everyone knows are TINY and he didn't even have a little space in the door for him to look out of. As soon as I put him in there it was like he had a chlaustrophobic attack and just could not understand why he couldn't put his head out of the door.
In that case I wanted to keep him out of his stable as much as possible that day in case he decided to use the fact that I locked him up against me in the test. So I rode him in the afternoon (which I'm very glad I did as he was quite fresh!) then kept him outside with us at the lorry until he had to eat his dinner.
It felt like we were back in Australia! The sun was shining, I was in a T-shirt, Seb was tied to the lorry and I was plaiting him as the sun went down. It was just like the old days (not really the sun going down part!).
Our training is coming along in leaps and bounds and every time I ride him I figure out something new. It's been a while since I've really had these lightbulb moments every time I ride, so its really refreshing to finally feel like I'm progressing quickly! I realised that Seb only goes forward and into the rein when I use my seat, not so much my legs. I'm so used to using my legs to ask more forwards, but really the key is a loose leg and a supple seat. Leg only to be used when needed and to guard, bend and quicken the steps.
This is possibly the key to keeping him in front of my leg in a test. Instead of me thinking "okay in front of the leg... kick kick kick", I have to think "on my seat, pushing the hind legs forward with my seat" into mostly the outside rein but allowing him to be free so he can move, and so I don't block him.
So it came to show time, and it was pretty difficult getting ready in the dark. With only the lorry lights and a distant flood-light, I had to bandage him and tack him up. I don't think Seb was impressed that he had a saddle on his back well after dinner time, but he was a good boy and complied with the situation. I was especially impressed with him as he had to warm up outside under lights, where there were lots of spooky shadows!
He was such a good boy in the test, he feels better and better every time I ride him! Obviously with a harder judging panel we didn't quite get our 69% that we got on Thursday, but we got a decent 65.5% that put us in 7th place out of 25! I was pleased with that, as there was a small mistake at the end in my flying change and I know there are still little things we can work on to bump our marks up.
The good thing is that every time I go out my marks are getting better bit by bit. We went from 60% at Myerscough (where I had to hire a driver from the internet to take me up and had a shocking warm-up!) to 62% at West Wilts, then 64% with Christoph Hess. This is all during a huge training transition, where everything is completely changing and where you have to accept that things will get worse before they can get better. Now I'm on 69% at a small competition and 65% at a tough competition, so let's hope the marks keep heading in an upwards direction!
The best part was that I got a qualifying score to go to Addington CDI in two weeks, and I got asked to go to Saumur at the end of April!! That will be my first ever competition in Europe, my God am I excited! :D I owe so much to my trainer Sandy and my Mum for being absolutely amazing and supporting what I'm trying to do. Sandy is so passionate about me and Seb's progress and my Mum will go to the ends of the earth to help me, so I am extremely lucky :)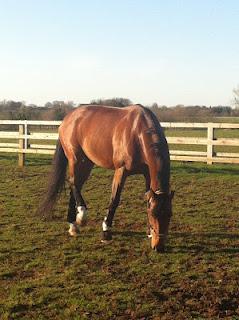 Seb relaxing in the field after a weekend of hard work!
The next day we just had a chilled out morning and headed home at lunch time. Again it was such a lush day and it was nice to be driving home in the sun. I rode Julius when I got home and put Seb in the field for a couple of hours. Finally Mum and I got back to the flat at about 7.45pm. With no food in the kitchen we had to go out to the little Italian place down the road, so after a lovely meal I crashed into bed... Mmmm :)