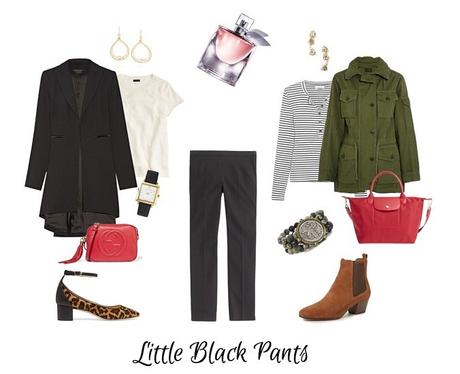 If there's one item of clothing I've come to think of as indispensable, it has to be a pair of black pants. They dress up or down, are perfect for travel and make any outfit look more polished. (And if black isn't your thing, go for navy.)
Above
Left: earrings (similar) | jacket | tee | watch | bag | shoes
Middle: fragrance | pants
Right: earrings | jacket | tee | bracelet | bag | boots
Little Black Pants: My Picks
Trousers:
Even though I'm no longer working in an office, I still keep a couple of pairs of black trousers in my wardrobe, and wear them more often than I'd anticipated. They're a nice break from denim, too.
Slim-leg pants in stretch cotton. A classic ankle pant with a side zip. The fabric has enough structure to smooth any lumps and bumps, but enough stretch to be comfortable. Even though I'm short, I preferred the fit of the Regular size to the Petites. If you are of average height or have long legs, don't be afraid to also try the Tall size for comparison. These are available in several colors besides black, including navy. For those in cooler climates, there's also a stretch wool version.
Cropped flares. These pants surprised me. I didn't expect them to be flattering, but because they're somewhat fitted through the hips and thighs, and the flare isn't extreme, they work. Here again, I preferred the fit of the Regular size (my legs are proportionally long for my height) so play with sizes until you find the length proportions you like. Several colors available, including navy. (I also bought these in the Cabernet color.)
Knits:
If you only bring one pair of black pants when you travel, I'd make it one of these. Both are hand-washable and dress up enough to go out in the evenings.
Stretch crepe. I like the slim ankle style, but a few of you have also recommended the bootcut style. Several Plus-size styles available too. These can be hand-washed in the sink and will line dry within a few hours.
Ponte knit. For cooler seasons, these are a great choice. I like the skinny leg version (which actually are more "slim" than "skinny", but they're also available in a straight-leg style as well (Plus-size also).
And…
A couple of lower-priced options for ponte knit pants HERE and HERE. The fabric on these isn't quite as substantial as on the Eileen Fisher ponte knit pants, but they both have a good fit and are washable.
Do you have a favorite style of Little Black Pants?