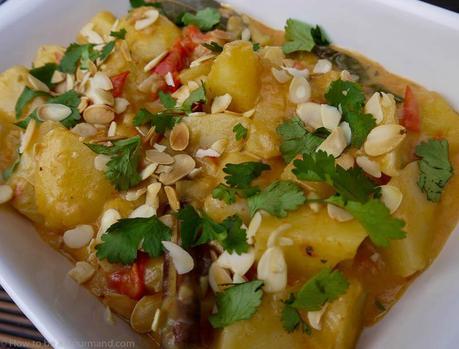 Potato Keralan Curry to celebrate National Curry Week
Crikey! How did we manage to reach October already? Apologies for the radio silence over the past few weeks but other projects have kept me occupied so to speak. In the past few mornings I have awoken with a plan of what has to be done within the next 12 hours only for any agenda to be pushed to one side to make way for impromptu requests.
Alas we find ourselves in a week that celebrates Curry. Hooray! Hailing from a city that has won the title of Curry Capital in Britain 4 years running, I've been lucky enough to eat my way through an array of fingerlickin' curries. Normally, I go for very spicy, bold and intense flavours with red meat. This week, I thought I would try something different. Well, vegetarian if I'm honest. Besides, a break from red meat will probably do me no harm at all.
I've decided to make a Potato Keralan Curry adapted from a Diana Henry recipe. I've used light coconut milk in this recipe but if you want a richer flavour, opt for the full fat version.
Print Keralan Potato Curry
Prep Time: 15 minutes
Cook Time: 30 minutes
Total Time: 45 minutes
Serving Size: Serves 4 for Lunch or Dinner, Side Order for 6
This is a nice alternative if you have a penchant for a curry but you don't want to overdo it on the meat content. The taste is lifted by the perfume of cinnamon and cardamom.
Ingredients
3 tbsp sunflower oil
2 large onions, finely chopped
1 cinnamon stick
Seeds from 8 cardamom pods
1 Bay leaf
5cm chunk root ginger, peeled and grated
2 green chillies, halved and finely chopped
4-5 plum tomatoes, chopped
500g potatoes, peeled and cut into cubes
400ml light coconut milk
Salt and pepper to season
50ml of skimmed milk (optional)
2 tbsp of chopped coriander
Handful of flaked almonds, toasted
Instructions
Heat the oil in a medium-sized saucepan and sauté the onions over a medium heat, until they are soft and golden.
Add the cinnamon stick, cardamom, bay leaf, ginger and chilli, and cook for another three minutes or so, then add the tomatoes and cook for another four minutes, stirring from time to time.
Add the potatoes and the coconut milk, season and cook for 15-20 minutes over a medium heat, until the potato is completely tender.
If you want the dish to be more of a soup consistency add the milk. If you add more milk, adjust the seasoning.
Notes
I pierced an additional bird's eye chilli into the dish as I like my curries with added heat. Remember to cut the potatoes into small enough sizes to ensure they are sufficiently cooked in the coconut milk.
Schema/Recipe SEO Data Markup by ZipList Recipe Plugin2.0http://howtobeagourmand.com/keralan-potato-curry-to-celebrate-national-curry-week/Unless otherwise stated, text and photographs © 2011 How to be Gourmand. All Rights Reserved. Kindly request permission from the author to copy or reproduce elements of this blog.
Serve with white rice or nan bread and mango chutney as a main or as a side order with roasted fish.
For further inspiration on making curries, I recommend the following websites:
http://maunikagowardhan.co.uk/cook-in-a-curry/
http://www.greatcurryrecipes.net/
http://www.anjumanand.co.uk/indian-food-recipes-cooking-dishes/recipe-archive/
How do you like to have your curry?