After a few weeks of not touring I'm finally back on tour. It's been a long few weeks without it! I'm only away for the next 4 days so just a short one, but once again, I am working with my good friend Lorraine so I know it will be fun.
We set off at 0830hrs heading south and before we even got on the motorway there was a good buzz on the coach. Lorraine and I were chatting and laughing which filtered through to everyone and created a really good atmosphere.
Our lunch stop today was at the Pantiles in the town of Royal Tunbridge Wells. 

The town came into being as a spa in Georgian times and had its heyday as a tourist resort under Beau Nash when the Pantiles and its chalybeate spring attracted visitors who wished to take the waters. Though its popularity waned with the advent of sea bathing, the town remains popular and derives some 30% of its income from the tourist industry.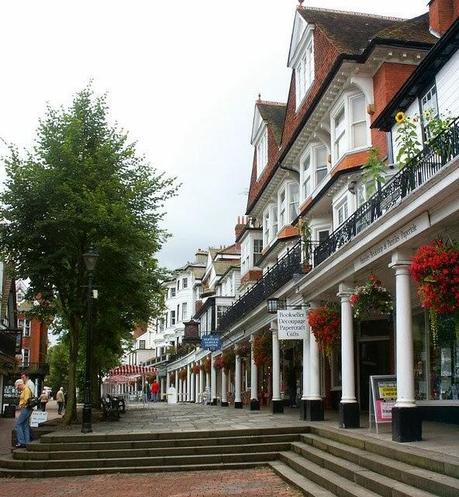 The Pantiles is host to many cafés, restaurants and bars as well as an abundance of independent shops. We stayed here for 2 1/2 hrs. Everyone thoroughly enjoyed their time here and were spoilt for choice with where to have lunch. 
We had just under an hour of traveling left before we arrived at our hotel. We are based for our few days at the Marriott Tudor Park Hotel Golf and Country Club. As we were driving in to the hotel, there was a man walking across the car park, just where I needed to put the nose of the coach before backing up to the reception. The man looked up at me as I very gingerly turned toward him, not wanting to cause him to panic. The look on his face when he looked up to see there was a woman driving this 13m coach was one of total horror! It was priceless, I wish I'd had my camera handy! Both Lorraine and I were in a fit of giggles. When I first started driving, the look of horror was one I saw regularly, but over the past few years it has become far more common to see women driving large vehicles and it was a look I had forgotten! 
My room is very comfortable, there is a pool, gym and spa available to hotel guests and our meal this evening was very nice. Lamb steak for main course, my favourite! The only criticism I would have of the hotel so far is that the red wine that is served by the glass, of which there are 4 choices, is cheap and nasty. I would have expected a lot nicer wine to be served, especially at the prices they are charging. Even so, I suffered a glass with my meal before disappearing off to my room to have some time to myself :-)