Well I'm quite excited to be doing another tour to an area I've never been to before and my first proper long haul tour for quite some time. A tour to the Rhine and the Black Forest in Germany. 
Day 1
This morning is the only real downside I can see of this tour and that is the ridiculously early start! I arrived at work at 4am to prepare to leave at 5am. Everything went according to plan. We collected all our passengers without a hitch and had an easy journey to Dover where I was hoping to catch an early ferry. I wasn't that lucky but we sailed out of Dover on time on our booked ferry where I had finished breakfast before we had left port and I spent the rest of the time asleep on the table!
We arrived in Calais and started the long drive to our first hotel in Germany, another 5 hours driving away. For the next 4 nights we will be staying at the Maritim Hotel, Konigswinter, on the bank of the river Rhine. We arrived shortly after 7pm (6pm UK time), unloaded luggage, parked the coach, dumped my stuff in my room and went straight to dinner, now feeling like a zombie! I don't remember what I had for dinner or whether I enjoyed it and I am now going for a well deserved sleep! Goodnight!
Day 2
I almost feel human again! I had a nice big breakfast with lots of strong coffee and know I'm ready to entertain the troops again.
This morning the group are booked on the Drachenfels Bahn which is just a short walk from our hotel and this afternoon is free. So I have a day off from driving.
We took the ride on Germany's oldest rack railway to the legendary Drachenfels, taking in the breathtaking views of 'the romantic Rhine valley'. Visibility wasn't at its best this morning with lots of low lying mist but the view was still beautiful.


Since it's completion in 1883 - at the time still operating with a steam locomotive - the Drachenfels Railway has been taking tourists to the top of the 321m high mountain. Drachenfels soon became one of the most popular attractions. In 2005 the old valley station was turned into a tourist station and the mid-station was modernised following extensive restoration of Schloss Drachenburg in 2011 to offer the opportunity of a stop over visit to the castle.
Schloss Drachenberg is an unusual edifice, built between 1882-84 for Stephen von Sarter, the son of a Bonn Innkeeper and is one of the most important castles erected in Germany towards the end of the 19th century. Stephen von Sarter, who commissioned the castle, attained wealth and honours as a stock market analyst. After being made a baron in 1881 he laid the foundation stone for his dream castle, which was completed, amazingly, in less than 3 years.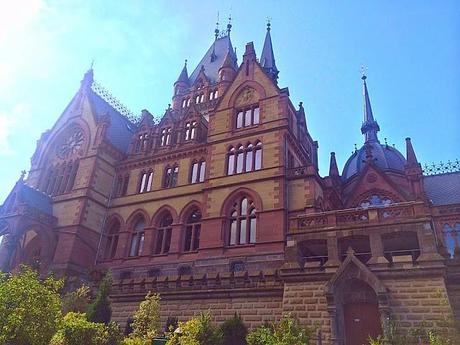 I really liked this castle. I can see myself living there! It wasn't overly big and the rooms inside were warm and homely, unlike so many of the castles I've seen. Plus, I would look good living here!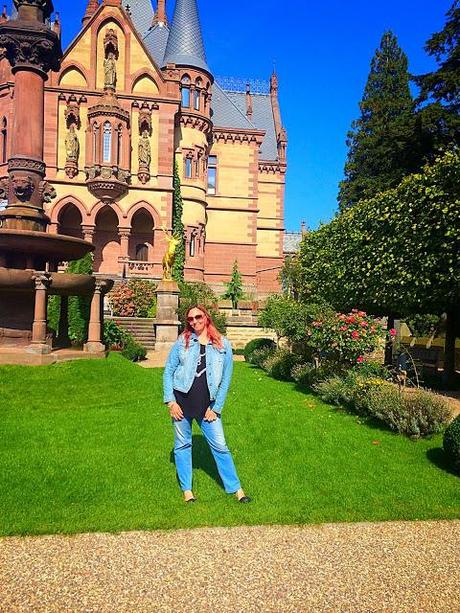 After a coffee we went back down to the town and had a little look around the shops on the Main Street before settling outside a riverside cafe where I enjoyed a couple of hours sitting in the sun, sipping Prosecco, watching the world go by.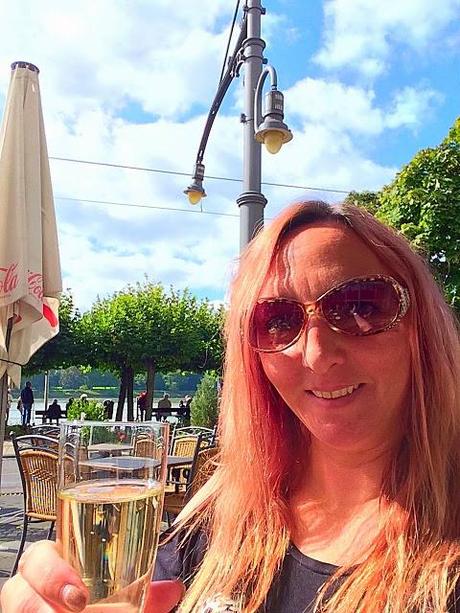 Day 3
This morning we are going for a scenic drive along the banks of the Rhine and the Mosel to the pretty little town of Cochem with its fairytale castle on the hill.


Few towns in Germany can match the charm of Cochem. Its picturesque beauty, makes it a favourite place for visitors. Legend, folklore and a rich web of history is woven into every street. Situated in an area of outstanding natural beauty in the Mosel river valley, between the Eifel and Hundsrück. It is surrounded by high elevations, steep vineyards and typical wine villages, offering tastings, festivals and genuine hospitality.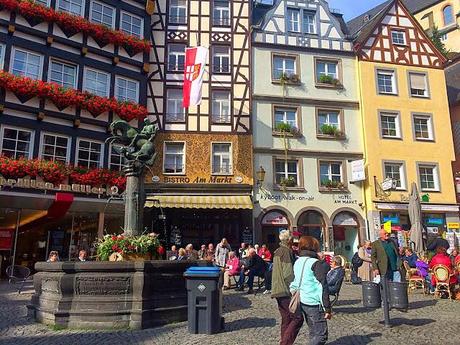 Cochem, itself, is a showpiece gem and rated as one of the prettiest villages along the Mosel. Little seems to have changed for centuries. The town has many fine buildings, quaint cottages, black & tan guild houses and winding streets. The town square, lined with its half-timbered houses, is particularly fine 
and Cochem Castle, (Schloss Reichsburg) dramatically rises above the town. Cochem is the center of the Mosel wine trade. Fondly known for it's regional wines due to the presence of the many vineyards and small family run wineries in the nearby towns along the river.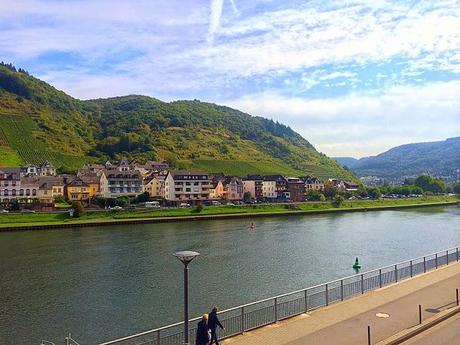 Early in the 19th century the first real tourists came to Cochem. Mostly English artists, they recorded the romance and beauty of the Mosel Valley, in their drawings and paintings. The development of Cochem into the first real tourist center on the Moselle came in the 1930s.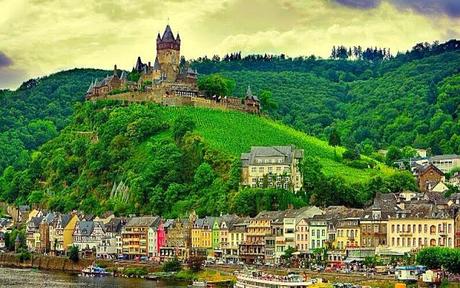 After spending long enough here to get some lunch we travelled the short journey alongside the river to the little town of Alken where we were booked in for a wine tasting at Anton Hammes Wine Estate. 
The wine cellars of the Anton Hammes wine estate have been owned by the family for more than 150 years, and are more than 300 years old in total. They were part of the Wiltburg castle complex, owned by the former free lords of Wiltberg. Wine is matured in the traditional style in old oak barrels, in the 300-year-old vaulted cellar. Here the grapes are processed after picking, the wine is given time to rest in the old oak barrels, time to develop its incomparable bouquet, and to mature. Obviously I couldn't indulge in the tasting being 'DES' (designated driver!) but I was given a couple of bottles to take home. Personally, I am yet to come across a German wine that I enjoy.
Day 4
We were in Bonn for the day today. When we arrived, we picked up our guide, Fiona, who took us on a tour of the city on the board the coach. She was very knowledgable about the city and knew her history but I don't think she had done much guiding on coaches. For one thing, she had 'mic fright'! She didn't seem at all comfortable with using the microphone and held it in the most peculiar way, mostly in her lap! Lucky my mic is sensitive enough to pick up her voice! Secondly, she was a useless navigator! Leaving it far to late to tell me to turn and she got me into a couple of really sticky situations in places that I'm not even sure we should have been! Nevertheless, the passengers enjoyed it and it all worked out well in the end. After the tour, we had the rest of he day free in the city to get some lunch and explore further.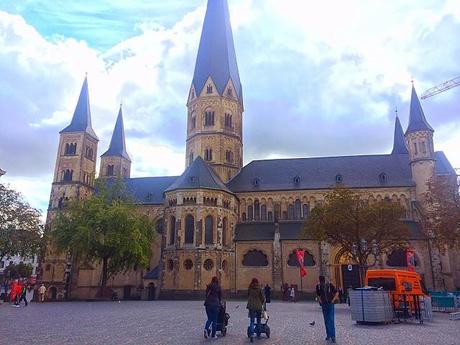 Bonn's beginning dates between 13 - 9 BC when Romans began building roads, bridges, and fortresses at a location known as "Bonna." One well-documented event was the maryrdom of two Thebaean legionaries. The Thebaean Legion was an all Christian legion, which refused to worship the emperor as a god. As punishment, the Thebaean Legion's commander, Mauritius was executed in 
St. Moritz
as were many other Thebaean legionaries including Cassius
and
Florentius
, Bonn's patron saints, who were martyred at the location of the present-day
Münster
basilica (above).
After the Romans left, the town had a very tumultuous history. Bonn has been destroyed and pummeled on so many occasions that it nearly became a pastime. Norman invaders were the first to burn the town to the ground in 881 and again in 892. In 1198, King Philip of Swabia and Duke Heinrich von Brabant layed siege to Bonn. In 1244 Konrad von Hochstaden, archbishop of Cologne ordered Bonn to be fortified. The reasons for fortification may have been for the Archbishop's protection as he had apparently begun fighting with Cologne's leaders and often resided in Bonn after the dispute. In 1288 under Sigfried II von Westerburg the archbishopric was transferred from Cologne to Bonn, which has since been transferred back to Cologne.

In 1582 Archbishop Gebhard Truchsess von Waldburg converted to Calvinism and refused to give up his position as elector. In February of 1583 Waldburg married and was in April of the same year excommunicated by Pope Gregory XIII. After the Truschessian War Gebhard fled to Strasbourg, but not before Bonn felt the rapture of Bavarian troops, who blew up the Godesberg (the archbishop's residence) with 1,500 pounds of gun powder. While the town survived the Thirty Years war Bonn was completely destroyed in 1689 as a result of the War of the Grand Alliance.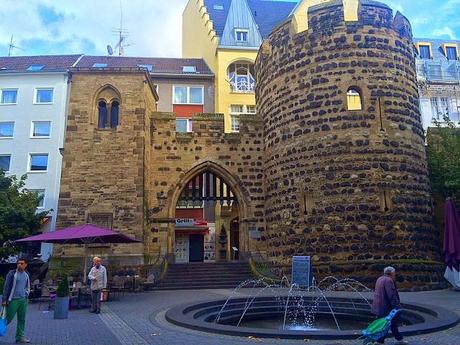 In December 1770 Bonn's most famous son, Ludwig van Beethoven, was born on Bonngasse. Bonn is probably best known as Beethoven's birth place and this fact is well advertised by the city despite Beethoven's vehement disgust towards his hometown. Beethoven spent some time in Vienna hoping to study with Mozart, but after his mother's death he was forced to return to Bonn for five years to raise his two younger brothers since his alcoholic father was unable to. In 1792 Beethoven returned to Vienna and never came back to Bonn.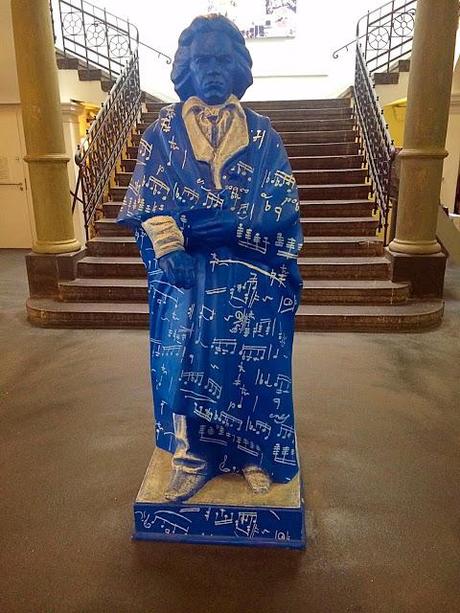 This evening, at dinner, we watched the most beautiful sunset over the Rhine, before having to pack our cases ready for the second stage of our holiday.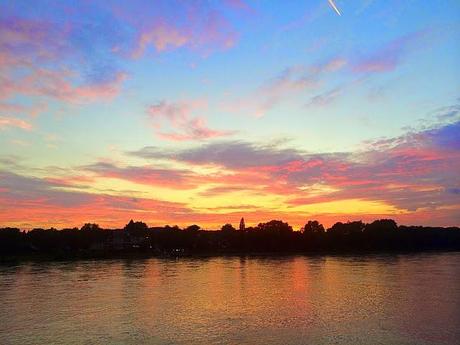 Day 5
This morning we are leaving Konigswinter after a very pleasant stay at the Hotel Maritim. We had good food, good service and nice rooms. I hope we are as fortunate with our next hotel. 
We had a lot of miles to cover today before reaching our second hotel, after having a very pleasant lunch stop in the town of Heidelberg.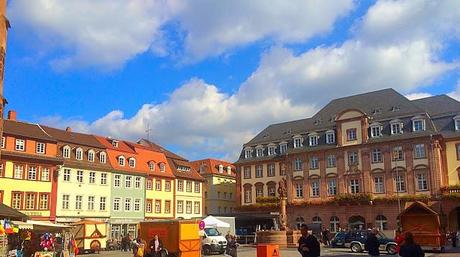 It is no secret that Heidelberg is a jewel among German travel destinations. Heidelberg is in the Neckar river valley right where the legend-rich 

Odenwald

 (Forest of Odes or Odin) opens up towards the plains of the Rhine Valley. Heidelberg is home to the oldest university in Germany (est. 1386). With 28,000 students, the Ruprecht-Karls-Universität (or 

Ruperto Carola

, the Latin equivalent of its name) is one of Germany's larger academic institutions and boasts the full spectrum of an ancient academy, from Egyptian Studies to Computer Linguistics. The faculties for Medicine, Law and Natural Sciences are considered to be among the best in Germany. The university fostered the establishment of several other world class research institutions such as the German Cancer Research Centre (DKFZ), the European Molecular Biological Laboratory (EMBL), Centre for Molecular Biology (ZMBH), Max Planck Institutes for Medicine, Astronomy, Nuclear Physics, among others. Generally speaking, Heidelberg is an academic city with a long and rich history and is similar in many ways to cities such as Cambridge or Oxford (Heidelberg and Cambridge, England are twinned).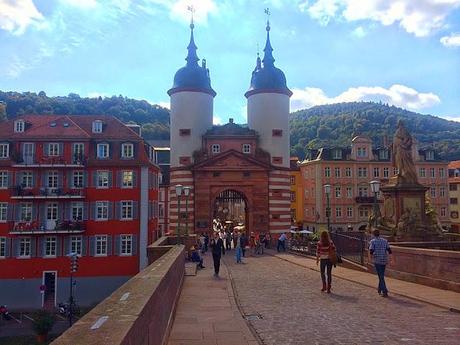 During WWII, the city was almost completely spared allied bombings which destroyed many of Germany's larger inner cities. As a result, Heidelberg has retained its baroque charm of narrow streets, picturesque houses and of course the world-famous Schloss (castle ruins). After World War II, the US Army built large barracks at the southern end of the city. Heidelberg's 147,000 inhabitants thus include not only 28,000 students at the university but also nearly 30,000 US citizens, almost all of them soldiers and their families. With hundreds of thousands of tourists flocking to the city annually, Heidelberg is truly a culturally diverse and international destination, despite its small size.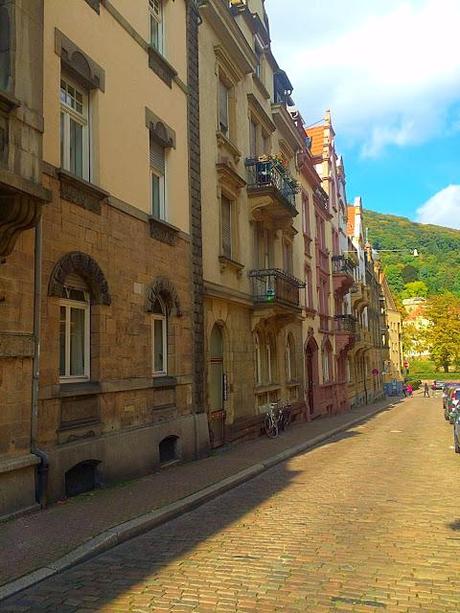 Over the years, Heidelberg has attracted numerous artists, intellectuals and academics from all over Europe and has sometimes been referred to as Germany's unofficial intellectual capital. People who have lived and worked in the city include the poets Joseph von Eichendorff, Jean Paul, Goethe and Iqbal, scientists such as Bunsen and Kirchhoff, philosophers such as the founder of the "Illuminati" order von-Knigge, atheist Ludwig Feuerbach, existentialist Karl Jaspers, political theorist Hannah Arendt, architect Albert Speer, and many more. Mark Twain wrote in '

A Tramp Abroad':
..."

Out of a billowy upheaval of vivid green foliage ...rises the huge ruin of Heidelberg Castle, with empty window arches, ivy-mailed battlements, moldering towers—the Lear of inanimate nature—deserted, discrowned, beaten by the storms, but royal still, and beautiful.

"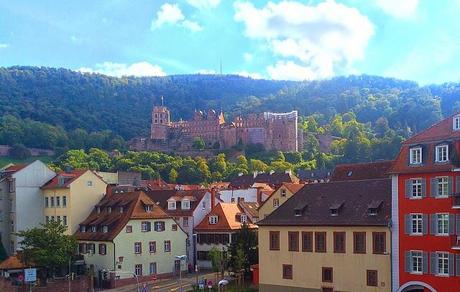 We were here for a couple of hours before having to move on to our hotel for the next 3 nights, Hotel Maritim Titisee in the Black Forest.
Day 6
Today I had another day off and I was looking forward to it! I had champagne for breakfast whilst  admiring the beautiful view over lake Titisee from the restaurant of our hotel.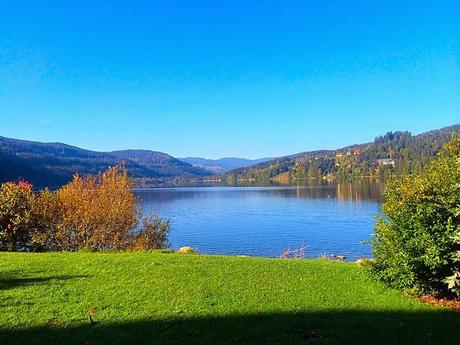 Titisee is a relatively new town having been developed after the late 1800's following the introduction of the railways, bringing tourists to the area. 
This morning we were all booked on a boat trip around the lake which was a nice relaxing way to start the day. There was a very brief commentary on board the boat but in all honesty, there is very little to talk about, just the outstanding scenery to admire.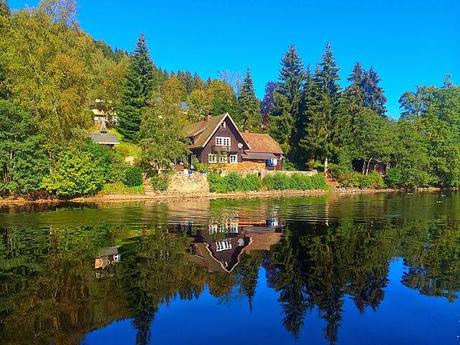 After a cup of coffee with some of the passengers in a lake side cafe, we were all booked on the little town land train. This wasn't something I was particular excited about and I wasn't going to bother going but I am so glad I did.
Our driver was Willie. He was a continental coach driver for 25 years before starting his business with his little land train. I asked if I could drive and he was very keen for me to sit up front. Little did I know his English wasn't very good and he quite promptly handed me the microphone for me to do the commentary! It was hard work trying to understand what he was trying to tell me but I think I got the general gist of what he was saying! Even if I wasn't quite accurate, it was better than no commentary at all.
He took us out of the town and up into the hills of the Black Forest where we could see the Black Forest highest mountain, Feldburg, the Austrian Alps and the Swiss Alps. He explained how the Black Forest is maintained at 70% with 25% farmlands and just 5% of the area being towns. It was a lovely scenic hour long ride and not at all what anyone expected.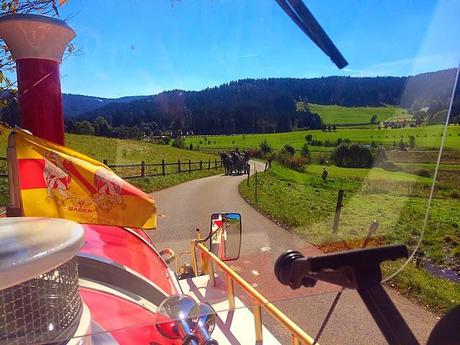 I spent some time cleaning and pottering around on the coach before having a really lazy afternoon, sitting on the lakeside terrace in the sun with a couple of glasses of Prosecco!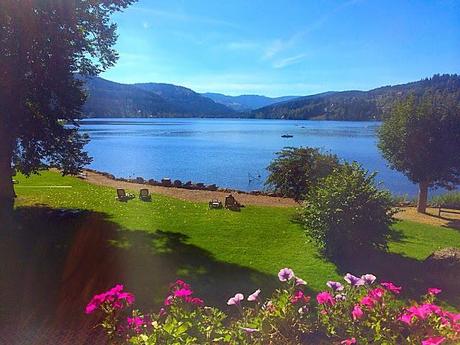 Day 7
Today is the day I had been looking forward to most of all. A very scenic day of driving around the Black Forest with a few nice stops and we had lovely weather which was the icing on the cake.
This ancient mountain range is famous for its legends and the black fir trees that cover the landscape. While not particularly high, the mountains offer a wonderful place to go hiking or mountain biking. There are a few skiing resorts as well offering average but crowded conditions. Better to head south to the Alps if you are a serious skier or boarder. The Black Forest is a mountainous terrain at about 200 - 1,500 meters above sea level, the highest point being the 

Feldberg

 (the 

field mountain

) at 1,493 m.
The region is famous for its cuckoo clocks, watchmaking, skiing and tourism. There is a large high-tech light engineering industry in the region stemming from the gold-mining and watchmaking days.
Our hotel had arranged for us to stop at an old mill for coffee and cake, Hexonlochmuhle. It was a lovely drive to get to it and well off the beaten track. At one point I was wandering where we were being sent, but it was a lovely stop.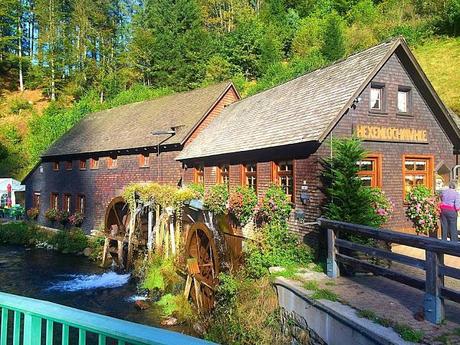 We were served up with the most enormous pieces of Black Forest Gateaux which was absolutely delicious. From here we headed for Triberg after a couple of stops for photo opportunities. The first was just in a layby on the side of the road at the top off a hill, looking down the valley.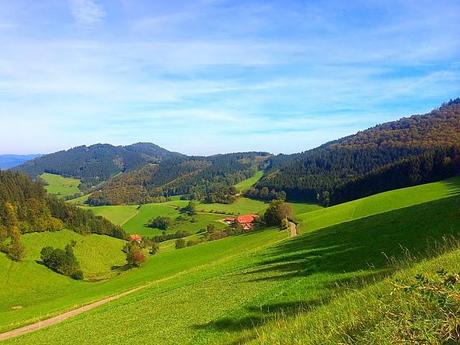 Our second photo stop was at the Cuckoo Clock which is in the Guinness book of records for being the worlds largest. We arrived just in time to see it strike 1 o'clock when there was a very un impressive, solitary, 'cuckoo'!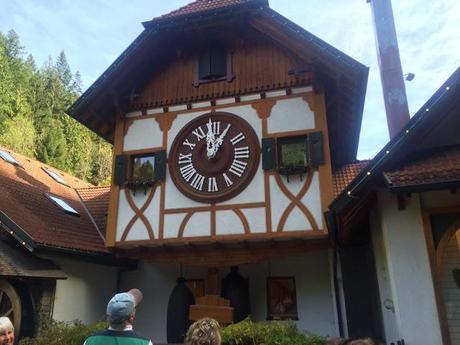 Then we moved on to Triberg, where we spent a couple of hours. This little city is famous for its waterfall and cuckoo clocks and relies completely on tourism. It is a very pretty place built on a steep hill but a few hours is a long enough time to spend here.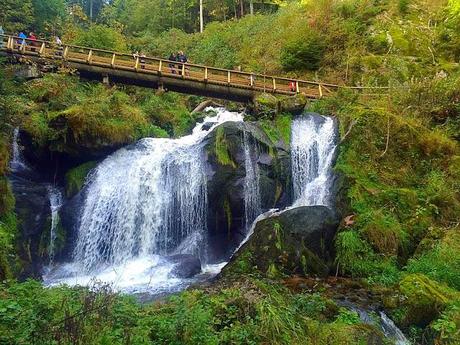 We left here and headed directly back to our hotel for a couple of hours rest before getting back on the coach and going out for our traditional German meal with folk entertainment.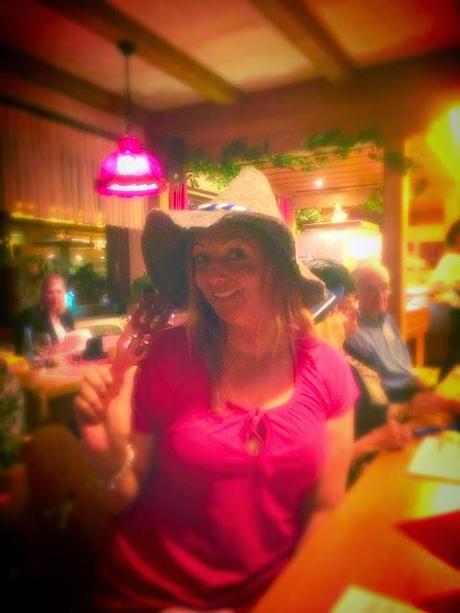 We were all given silly hats to wear and there were a lot of procussion instruments handed around for us to join in with the traditional music and singing. We had a 5 course meal served which was lovely, although, apart from more Black Forest gateaux, I couldn't tell you what we ate! It was an evening of great fun which everyone got involved in and enjoyed. We got back to the hotel at about half past 10 where I sat in the bar and enjoyed a glass of beer before bed.
Day 8
Well this morning we checked out of our hotel and started our long journey back to the UK, but not before visiting Freiburg and staying for some lunch.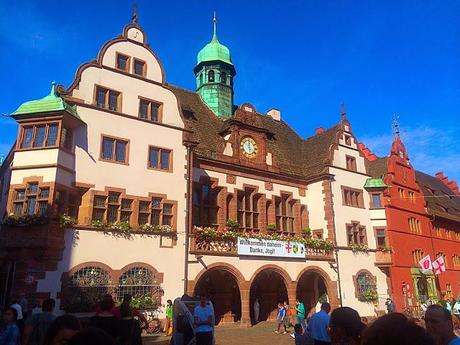 Lying in a secluded wine-rich corner of the German state of 

Baden-Württemberg

, Freiburg is a laid-back, beautiful university city. Known throughout Germany for Albert Ludwig University of Freiburg, good weather, and vineyards, Freiburg is considered by Germans to be a desirable place to live.

Due to its secluded location at the border triangle of Germany, France, and Switzerland, and being fairly removed from any other larger German cities, locals will frequently go shopping in France and Switzerland for their respective native products and go to museums and theaters in Basel or 

Zürich

. You can find a strong local patriotism, which shows itself in the anthem of Baden (a former independent state), which can be heard more often than the national anthem.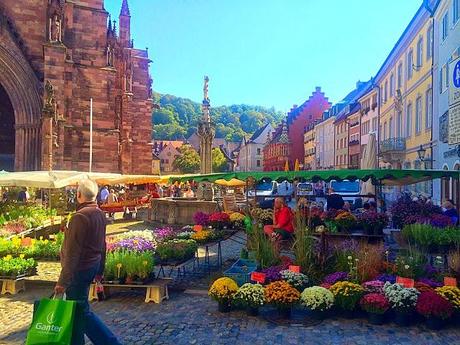 After staying long enough for some lunch, we hit the road to Metz for our overnight stay. Tomorrow we will be racing for our ferry and arriving home at about 9pm. A day purely of travelling.
In my opinion, this tour has been a great success. We have had a great group of passengers who have all got along, joined in and looked out for each other. Our hotels have been good and we've been well fed. To top it off, we've had great weather from start to finish. Another good job done!