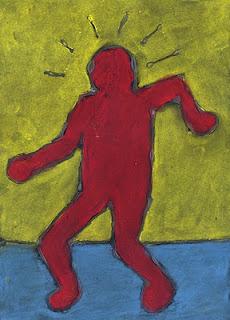 Keith Haring (1958 – 1990) was an artist and social activist whose work responded to the New York City street culture of the 1980s. His simple and colorful figures are a great style to imitate when studying body proportions.

1. I gave each student a 9" x 12" sheet of black paper, and a cardboard rectangle about 3" x 5", which was centered on the paper and traced. My goal was just to have the students use this as the torso of the body, and they were to add "action" arms and legs in whatever combination they saw fit. The tendency is for them to draw small, so they need to be reminded that the middle of the torso would be the waist, so any elbows in their drawing should line up accordingly. The legs also need to be long and wide, and fill the bottom of the paper. Lastly, "energy" lines were added around the head, along with a simple horizon line.
2. After the pencil drawing was done, and the box lines were erased connecting the torso and the legs and arms, the students carefully traced the drawing with white glue. Let the art dry flat for at least 24 hours.
3. Show the students examples of Haring's simple primary colored figures. They are to use chalk pastels accordingly, coloring and blending with their fingers to get coverage all around the glue lines.
CA Visual Arts Standard: Grade Four
2.2 Use the conventions of facial and figure proportions in a figure study.