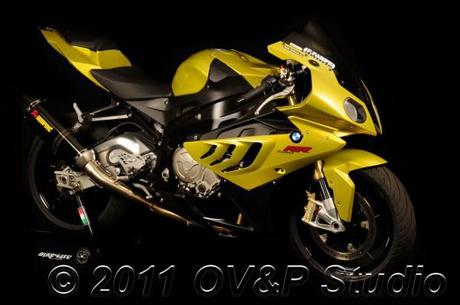 As regular readers know, Dave is a long time biker, having raced superbikes professionally for 9 years (including representing South Africa internationally), as well as racing dirt bikes for many more and also doing his fair share of instructing other riders. Despite retiring a few weeks ago from the racing side of riding, he's far from done with motorbikes

Above is a pic of his current road darling, a BMW S1000RR, showing off under our studio lights, and here's another showing  how much he loves her!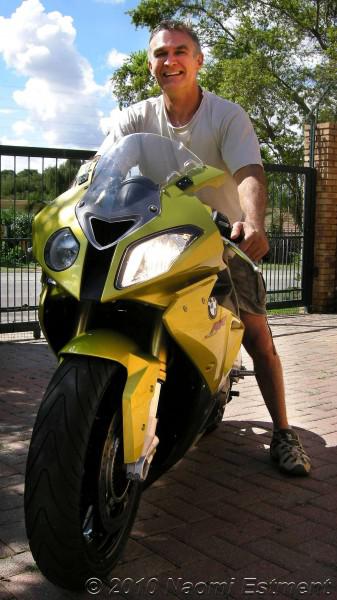 DAVE ESTMENT on his BMW S1000RR Motorcycle
Despite its leading edge technology and phenomenal handling capability, this machine could be lethal in inexperienced hands, sporting a top speed of around 300 km/hour. It's sobering to consider that a youngster fresh out of school could buy something like this and ride it off the showroom floor – sometimes costing lives, as we have witnessed.
All the more reason to support safety measures, which is why I welcome the following input from Gina Williams of www.motorcycleaccident.org, who is a USA-based guest post and article writer bringing to us general motorcycle data and information on motorcycle safety courses:
"Motorcycle Data
The fact is this: Motorcycles are substantially more dangerous than other passenger vehicles, i.e. cars, trucks, and SUVs. If you ride a motorcycle you are 25 times more likely to be in a deadly accident than passengers in another vehicle type. These chances are only increased if you choose not to wear a helmet. In 2007, motorcyclist deaths accounted for 13 percent of all fatal road accidents in the United States. According to the National Highway Traffic Safety Administration, of all road accidents that occur in the United States, 11 percent involve motorcycles. Yet, in 2005, motorcycles only accounted for 2 percent of all roadway vehicles. This means that although motorcycles are a much less common form of transportation, they contribute to accidents at a high rate.
The most common reasons motorcyclists become involved in an accident are:
  • A fellow motorist not seeing a motorcyclist.
  • Driving while under the influence of drugs.
  • Lane splitting.
  • Speeding.
  • Underestimating one's skill set.
The purpose of driver safety courses is to teach new and old riders about safety, how to properly operate their motorcycles, and how to minimize their risks of being involved in an accident.
Why Taking a Safety Course is a Must:
New Motorcyclists
Classroom and supervised practice teaches new motorcyclists the basic knowledge necessary. Each course is different, but the following is generally taught:
  • How to use a motorcycle; how to:
  o Use the gas and brakes.
  o Turn on and off the bike.
  o Turn:
  - At intersections.
  - Around road curves.
  o Mount the bike.
  o Stop quickly.
  o Change lanes.
  o Avoid hazards and obstacles.
  • Riders' responsibilities.
  • Safety precautions one should take.
  • The controls of a bike.
  • The mental and physical necessities for riding.
  • What risks motorcyclists take when riding.
  • Which safety equipment to wear.
Intermediate and Advanced Motorcyclists
Courses for riders whose skill levels are beyond a beginner's provide the following:
  • Reinforcement of basic riding skills.
  • More in-depth information on:
  o Riders' perception while riding:
  - How to limit distractions.
  - Where to look when riding to ensure safety.
  o Safety concepts.
  o Risk.
  o How to react in situations that require immediate actions, i.e. how to break when the vehicle in front of you suddenly stops.
  • Riding improvement.
  o Many courses include supervised rides with professionals. This enables a professional to point out flaws in a rider's habits of which he/she might not have knowledge.
Other reasons for motorcyclists to take a safety course is that many times, they can receive a discount on their motorcycle insurance."
* Gina also writes about motorcycle accidents.
For anyone, including ladies, looking for riding courses in Johannesburg, Dave and I recommend Roto Rookies. Not only are the instructors extremely skilled, but they're stunning people too.
And for everyone out there on two wheels, ride safely and enjoy!
Now, because I simply can't resist, here's a pic of Dave demonstrating exactly WHAT NOT TO DO!!

(Taken some time ago by Marc Bow during a motorbike test for a magazine article.)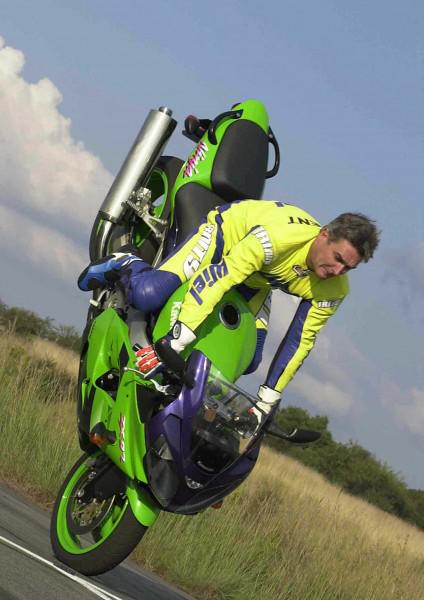 DO NOT TRY THIS AT HOME!