Hey guys! Im posting from my iPhone… arent apps awesome?!
So last week was sopposed to be the first week of my brother and i focusing on health, and we did but it was pretty hard. I was super busy with finals and graduation so we missed one day of exercise. We also had a party for graduation, a breakfast with Max's family and a birthday lunch for my grandma. Its safe to say all i did was eat this weekend.
Ill admit that i was pretty stressed out and exhausted at times so my focus wasnt on healthy choices. But, today is the beginning of a new week and a new chance to get my fitness and healthy eats accomplished.
breakfast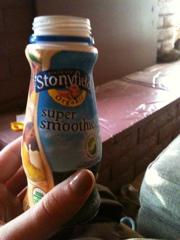 im keepin it lite with a Stonyfield peach yogurt smoothie. i need some serious detoxing today, i feel full and i just woak up.
Calories: ~200
agenda
today's plan is laundry and a clean room. Ive been exhausted from all the graduation festivities so im planning to keep the day low key. I dont need to be getting sick right at the start of summer.
Ill catch yall at lunch… Laters!