With all the rising powerepop/alt rock band's coming in as quickly as they fade it's really hard to stand out in such a filled genre, but the guy's of the Texas based band 'Keep it Cute' have a contagious feel and energetic sound defining it as pop n' roll, making them very radio ready. Their vocal's and overall instrumental accompaniment are

strong enough to carry them for a longer career of other similar artist in their genre like Forever the Sickest Kids, Simple Plan and AllStar Weekend. Working alone side Kevin Gates who has assisted Never Shout Never and The Ready Set on 'New Beginnings' and earning their spot in April '13 Alternative Press 'Top 100  Band's You Need To Know' they are defiantly music to be noticed.
I caught of with the guy's this week on a Q&A as they are currently on Tour with We The Kings, so check out all they had to say below:

Hey Guy's, why don't you introduce yourselves to our reader's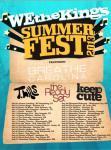 My name is Ryan and sing.  My name is Matt and I play guitar. My name is Aldo and I play bass. My name is Kevin and I play guitar.
When did you all come together to form the band? And how did the name come about?
We have all been friends for quite some time and all played in different bands throughout the local music scene. When things began to get more serious, we all came together to form "Keep It Cute". While deciding what to name our band, we thought of something short and catchy that people would remember. 
Now I have to say when listening to your track's I really was reminded of 'Forever The Sickest Kids' and 'The Friday Night Boys'was that an intentional inspiration?
Yes and no. We all grew up listening to pop punk bands, and we believe we kind of formed our own sound over the years, a sound people would describe as "Pop N' Roll". Our music tends to have the elements of modern top 40 pop songs a long with a pinch of rock n' roll. 
Who would you say are your biggest musical influences as a band?
For inspiration, we listen to anything from Mötley Crüe and Def Leopard to Justin Bieber and One Direction, but our biggest inspiration of all is our fans, without them we would be nothing. 
 Lyrics, is it a group effort or one designated Lyricist?          
In the beginning, when it came to song writing, Ryan wrote all of the songs. Now it is more of a group effort between Ryan and Matt and the rest of the band. 
 Last song you listened to on your playlist?
The last song played on my playlist was 22 by Taylor Swift. 
Weirdest thing that's happened on tour as of yet?    
So far, the weirdest thing that has happened on the road was Ryan's bright red pants ripping down the middle during the first song in our set at Six Flags Over Texas in Dallas, TX. 
What would you guy's like to tell all our Reader's?

We would like to tell everyone: thanks so much for your support and reading. We all can't wait to meet all of you on tour this summer. 
_Thank's guy's and look forward to catching your show!For more on the band:Twitter: @KeepItCuteBand
Purevolume: www.purevolume.com/keepitcuteofficial
Tumblr: http://keepitcuteband.tumblr.com/
Youtube: 
www.Youtube.com/Keepitcuteofficial
Instagram: www.instagram.com/keepitcuteband