Tips & Guide To Trekking Gaurikund To Kedarnath
 Route
you can hire Dandi (palanquin) , kandi, pony, horse to trek kedrnath temple, there is a government prepaid counter in
 Gaurikund horse stable
to hire pony, palanquins in fixed price rate. in other condition if you hire from somewhere(not in govt. counter) then make sure that pony, palanquin and
dandi-kandi
is register under government registration number. only hire a register pony or palanquin.
do not carry all cloths and all other heavy things, only go with one or two heavy woolen clothes, jackets, hat  and take raincoat to avoid the rain, make your luggage more lighten that can be helping  you to make-out from tiring, even only up to 10kg luggage is allowed with per pony, per person. if it is necessarily to carry all thing in luggage you can hire a
kandi man
for that stuff.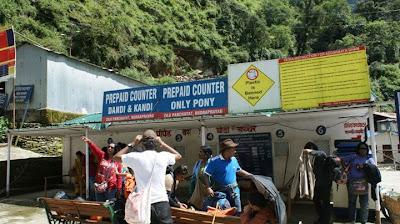 government counter to hire pony & palanquin in Gaurikund horse stable
if you are trekking by foot then please ensure that you are mentally and physically fit and not respiratory problem cause you are going to trek at the height of above 11000-12000ft, or you can prepare yourself with exercise like
Anulom-Bilom pranayam 
before some days of trekking.because it can help you to cope with the shortage of oxygen and you breath well.  is better if women avoid sarees and other heavy clothes opt like trousers and salwar kameez.
although everyone is tired in trekking and need some rest in the way of trek but please read carefully notice boards or warning signs boards before resting anywhere in the trek-way, may be nearby dangerous zone for rock fall, landslides may be happen in these area and be always active at these dangerous places.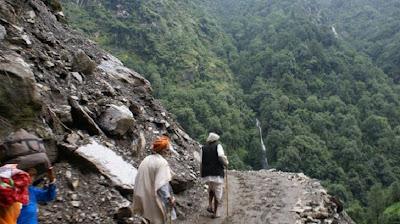 landslide in kedarnath trek route
carry a reputed water company bottle with you like Kinley, Bisleri, Aquafina and ensure that it is sealed pack while buying.
be with all group members or family, and never try to attempt any short cut way in 14km trekking route.you may carry a kit of medicine like first aid box in any emergency
eat only cooked, boiled and fried foods. avoid taking any type of cold food or drinks in any case.
make discipline with nature and do not throw any plastic stuff  in trek way. plastic is banned most in this area use garbage box.