Kedarnath Online Puja Booking And Details-  
 All booking and details of online puja or pooja are performed under the
Badrinath-kedarnath Temple Committee.
you can choose one of the best time and type of puja schedule offering  in kedarnath temple under temple committee.
if you are looking for earlier morning pooja ( puja ), you can book one of them -
Morning Puja Schedule And Price
Decription of puja                     price in rupees 
`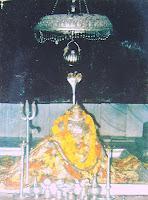 Maha-abhishek                               5100                                  
Rudra Abhishek                              4100
Short time Rudrabhishek                 3500
Sodasopachar                                3100
Morning Puja                                 500
Bal-Bhog                                       551      
Note
-all the Shiv-Abhishek puja and sodaspachar puja is limited with 5 person due to crowed inside temple . and all pooja are performs between  4 AM to 7 AM.     
however according to your suitable time situation you can also do
Evening Puja
booking and choose  your best Puja schedule.
Decription of Evening Puja               price in 
` 
Sampurn arti (सम्पूर्ण आरती)          4500
Shiv Mahimashrot                       1100
Shiv Taandavshrot (तांडवश्रोत)       1000
Shiv sahastranam                      1100
Note- all the evening time puja is limited with 5 person and performs in the time of 6 PM to 7:30 PM. 
even you can do also bhog puja in 500 
`
 which is performed by temple priest ( 
pujari )
 and Yagya hawan 
( 
यज्ञ हवन )
  in 1100 
`. 
after deciding the best pooja schedule, you can make a DD in the following address. your puja will be book after the confirm receiving DD by temple Committee.
Shri Pramod Nautiyal,
IT Co-ordinator 
Shri Badrinath- Kedarnath Temples Committee 
Chandrabhaga Bridge , Rishikesh, Uttarakhand - 249 201. INDIA.
Telefax: + 91 - (135) 2430261
e-mail: [email protected]; [email protected]; [email protected] 
 for more latest updates about kedarnath or badrinath online pooja booking you can call or contact in above phone number and address or  you can visit the official website of Badri-Kedar Temple Committee.