Kaya skincare products have always worked on my skin and I love them. For some time now, I've been trying the new Kaya AntOx Vitamin C Formula, a non-oily gel that contains Vitamin C. Now in terms of skincare nothing can get better than Vit C which gives brightness, gets rid of marks and discoloration and in general helps to give healthy looking skin. So when I saw that this product contains Vit C, I was definitely very curious to see if it would work.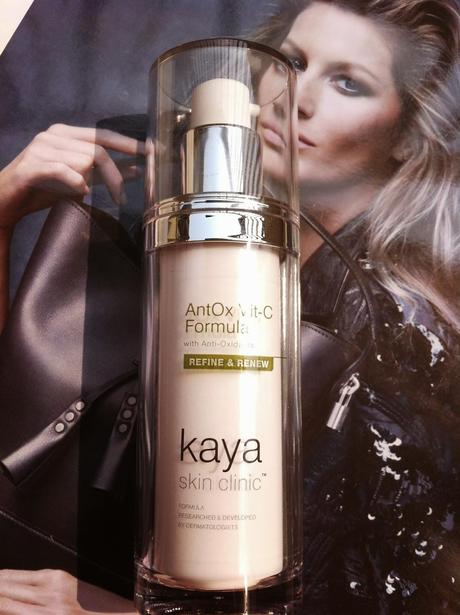 Here's what the product claims to do:
It is a non-oily, easily absorbing anti-oxidants gel based on Vitamin C. Vitamin C is known to counteract free radicals responsible for premature skin ageing, protect the skin against environmental assault and delay the appearance of dark spot, fine lines and wrinkles and gives you softer, smoother skin.
Ingredients:
Aqua, Sodium Ascorbyl Phosphate, Magnesium, Ascorbyl Phosphate, Cellulose Gum, Phenoxyethanol and Ethylhexyglycerin
Price:
1790 for 35 ml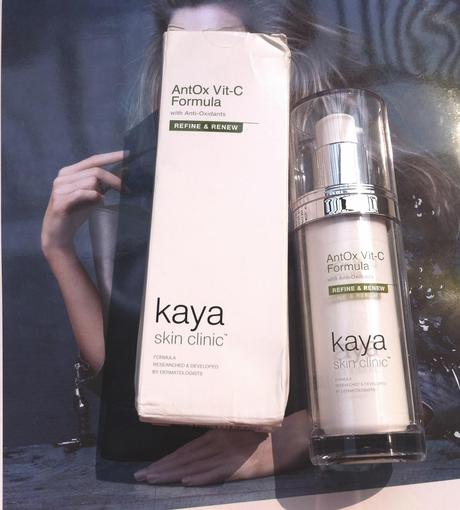 The packaging of the product is simple and fuss free. It has a transparent plastic lid and comes in a white pump dispenser bottle. The product is a clear gel. It's light and spreads evenly on the face and I like that it gets absorbed very fast leaving no trace of the product on the surface of the skin. Which means its perfect for those with combination or oily skin. Can get a tad drying though if you have very dry skin.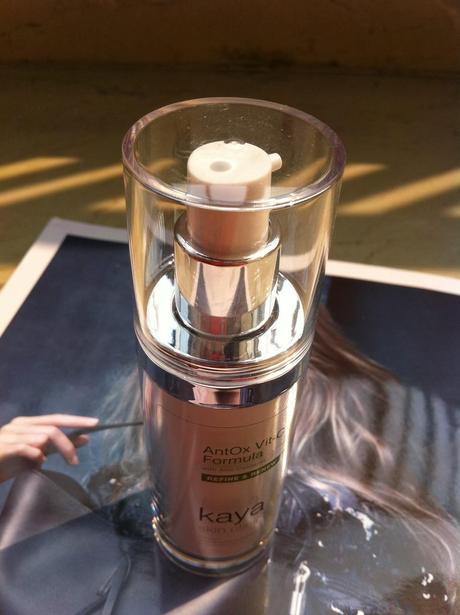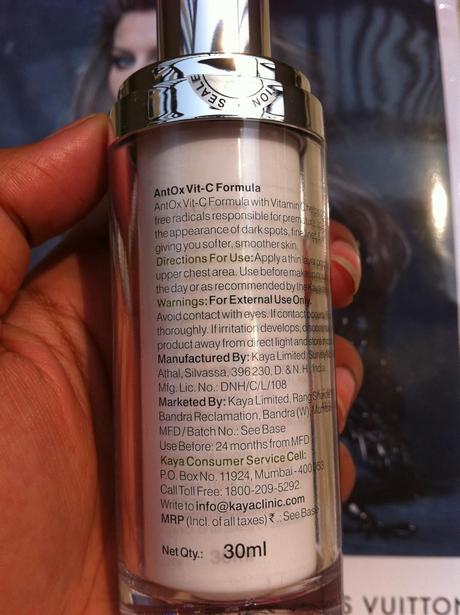 As per directions, the product is supposed to be applied on the face, neck and chest area before applying makeup and sunscreen during the day and that's what I do. Since the texture is very light, for me it acts as a great base for makeup for well. 
There's one word of caution that I would like to share. Not everyone's skin takes to Vit C very well so I do recommend doing a patch test and trying it on at a Kaya skin clinic first before buying the product. Every Kaya clinic has an in house dermatologist so consult with the doctor as well. Its an expensive product and it helps to be absolutely sure. 
On me, the product has been working well. I've noticed that my skin tone has evened out a bit and some spots around my cheeks have lightened. I have not seen any effect on the fine lines yet but I guess it will take some more time. I am happy with how my skin looks and feels now and that means the product is working for me. 
If you are looking for a Vit C fix for your skin and don't mind the price, try out the Kaya AntOx Vitamin C Formula. Its working very well for me!
P.S - PR Sample. Honest review