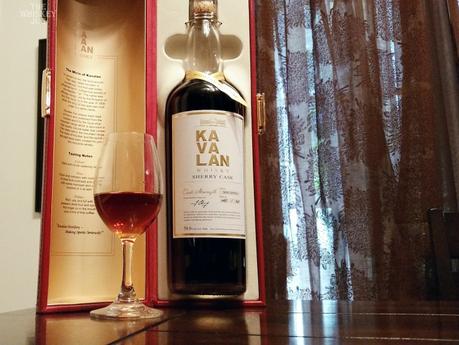 Kavalan Solist Oloroso Sherry Single Cask Strength is a giant mouthful for a whisky so we're just going to call it the Kavalan Sherry Single Cask. It's also a whisky I've reviewed on here a couple of times, but being a single cask each one is a bit different. So for the same reason I review different casks of Russell's Reserve or Four Roses I'm reviewing this one.
I picked up this bottle of Kavalan Sherry Single Cask when it first launched in America about 4 years ago. It was in the initial batch that came to K&L and I picked up this one along with a Barrique which I'll pull out and dig into at some point in the near future. Which I'm definitely looking forward to because it's my favorite of the Kavalan releases and has been since we tried them all 4ish years ago at a SCWC meeting.
Whiskey Review: Kavalan Sherry Single Cask
In Kavalan's Words: Kavalan Sherry Single Cask
"Matured in Spanish top quality oloroso sherry casks in special editions, Kavalan Solist Sherry is bottled at the distillery, without any colouring or chill-filtration. It is a naturally smooth and rich whisky with a complex character. It is clean and complex with multi-layers of dried fruit, nuttiness and spices with some marzipan and vanilla touches to it as well."
Kavalan Sherry Single Cask price, ABV, age and other details
Region: Taiwan
Distiller: Kavalan
Mash Bill: 100% Malted Barley
Cask: ex-Sherry
Age: NAS
ABV: 58.6%
Cask Strength | Non-Chill Filtered | Natural Color
Barrel: 5081205024
Bottle: 045/505
Price: $250
Kavalan Sherry Single Cask Tasting Notes
EYE
Drying blood
NOSE
Sherry, pinter's ink, dark fruit, brown sugar, ash, nuts and a bit of leather, cinnamon and citrus.
PALATE
Sherry! Printer's ink, cherry heavy dark fruit, toffee, citrus, leather and a bit of bitter metallic notes and dried fruit.
FINISH
Long -> Sherry, alkaline minerality. dried fruit and cocoa.
BALANCE, BODY & FEEL
Good balance, round full body and a thick heavy feel.
Kavalan Sherry Single Cask Review – OVERALL
This Kavalan Sherry Single Cask is pretty good. It's a bit lighter and less complex than others I've picked up, like that stunning K&L Sherried Kavalan, but it's also quite a bit ahead of things like the current Macallans. This is rich, full and bold and compared to the current Mac 18 ($240) I'd take this over it 100% of the time; whereas the Mac is loosing steps every year Kavalan keeps gaining.
If I could afford it, I'd always have a bottle of the Kavalan Sherry Single Cask on my shelf and instead of being a "special occasion" pour it would just be what I drank on Wednesday. Ah dreams, I suppose I should come back to reality and just enjoy what's in the glass at this moment and be grateful. I'm sure there's a life lesson in there somewhere and I'll go hunt it down after I finish this tasty tasty whisky.
SCORE: 88/100 (B+)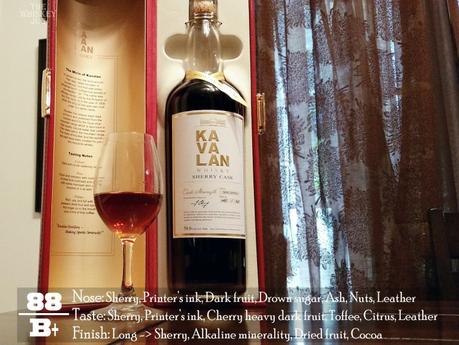 Kavalan Sherry Single Cask - Score Breakdown
Nose -

87

Palate -

89

Finish -

88

Balance, Body & Feel -

88
88
Kavalan Sherry Single Cask Review - Summary
Kavalan Sherry Single Cask whiskies are alwasy good. Highly recommended if you're looking for a big heavy sherried single malt.
'