These days pop divas aren't too hard to come by, but the good ones are still pretty far and few between. Katy B is the U.K.'s latest go at a potential pop superstar, and she differentiates herself from the pack with slick dance beats, 90s era grooves, and sweet, crisp vocals. She's also enlisted the help of some major stars from Britain and beyond for her new four-track EP, Danger.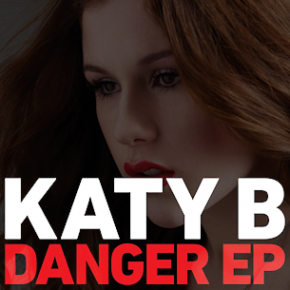 Iggy Azalea, Diplo, Jessie Ware, and Zinc are just some of the names that Katy B lists among her own on Danger. It's a pretty impressive haul for any artist, let alone a young artist just beginning to make her mark. However, even as an up-and-comer, Katy's confidence doesn't seem to ever waver. For example, the opening track of Danger is named after none other than "Aaliyah" (R.I.P.). As a young female singer, any reference to the late-great artist gone way, way, to soon is a lot to live up to; However, Katy is clearly up for the task. Maybe it's the vocal addition of the awesome Jessie Ware, but what could have been a stale Aaliyah copycat track is instead a delicious dance floor tale of jealousy: "Aaliyah, please don't take my man/Although I know you can." It's the best track on the EP.
There's no doubt that the four songs on Danger are party songs, and the upbeat vibe continues through each track. "Got Paid" really captures that "Woooo!" feeling of a nice, fat, Friday night paycheck (clearly, Katy B isn't a writer). The lyrics are sort of silly, but a zooming synth background coupled with Katy's vocal enthusiasm more than make up for that. Title track "Danger" slows things down considerably, in which a lovesick Katy croons "I see the thick, black smoke/I see the bright red flame/Burning our love away/Ain't that such a shame." She works quite well at both speeds.
Unfortunately, it's hard to feel the same about "Light as a Feather," which seems just that– light– in comparison. Usually a Diplo beat supports a singer so that she can soar, but "Light as a Feather" actually weighs Katy B down. It sounds as if the track could have come from the not-as-inventive Katy P.
Regardless, Katy B may have established herself as one to watch on Danger. Throughout the EP's four tracks, she definitely makes her mark, which is one of fun, danceable nostalgia. Katy B could very well have been a dance floor princess circa '93, but instead we'll just have to look forward to what she comes up with in '13.

3 / 5 bars