On today's adventure Tracey from Don't Touch The Dinosaurs takes us around the Käthe-Kollwitz-Museum in Berlin.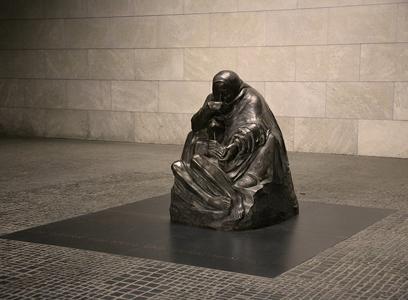 Mother with dead son
 (
Pietà
), at the Neue Wache, Unter den Linden, Berlin (source: http://www.kaethe-kollwitz.de/spurensuche-en2.htm) German history is fascinating, trying to weave your way through the different political twists and turns, trying to work out why Rosa Luxemburg and Karl Liebknecht, two radical leftists and founders of the Communist Party of Germany are still revered with major street names in post-communist era Berlin and trying to understand the mood and social conditions that existed after World War I and culminated in World War II. History books and bullet covered buildings can only help so far with this and for me the life and work of Käthe Kollwitz helps to fill in some of the gaps. Käthe Kollwitz was a socialist who was vehemently anti-war. She lost her son in World War I and her grandson in World War II. Her work is dominated by reflections of poverty, grief and hunger. She lived through the Weimar Republic, the growth of the Nazi party and most of World War II, staying in Berlin until 1943, and while her works were taken out of galleries by the Nazis, she was largely left alone, probably due to her level of fame. Her works are consistently tender, emotional, painful and expressive.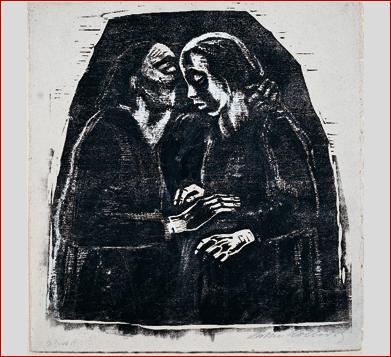 Maria and Elisabeth, 1929 (source: http://www.kaethe-kollwitz.de/werkschau-en_19.htm)
Today a selection of her works are permanently displayed in a museum off KuDamm near Uhlandstrasse U-Bahn in Charlottenberg, Berlin and her sculpture 
Mother with dead son 
(top) is displayed in the Neue Wache on Unter Den Linden as a memorial to victims of war. The museum displays not just finished pieces, but different drafts of the prints, etchings and woodcuts showing the care, attention and thought processes that went into each piece. The theme of grieving mothers is prevalent, with Kollwitz repeatedly drawing on her own grief to produce her works of art and knowing it took her 18 years to produce the 
Grieving Parents
 sculptures that were placed in the World War I cemetery where her son was buried is even more poignant considering the emotional pain that would have gone in to each and every version of these she developed. I've never really seen art that just looks so heartbroken, just genuinely heartbroken to the core that presumably only a grieving mother can understand. Perhaps heartbroken about the state of her country too, about the chances those that are living will not get with first poverty and hunger and then further war to destroy their lives. But at the same time she produced anti-war posters and posters highlighting the plight of hungry children in 1920s Germany, pushing for change, for peace and fighting for a better future. So for me, Käthe Kollwitz's works of art go along way to help me understand one important view of Germany during the Weimar Republic through to World War II; a view of the pain and suffering of many, but also the struggle for change.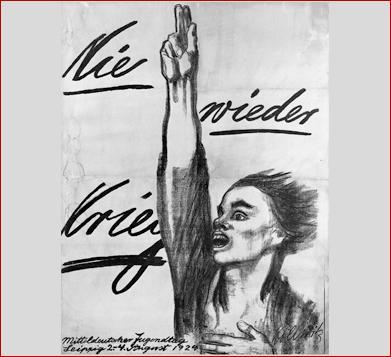 Never Again War!, 1922 (source: http://www.kaethe-kollwitz.de/werkschau-en_24.htm
)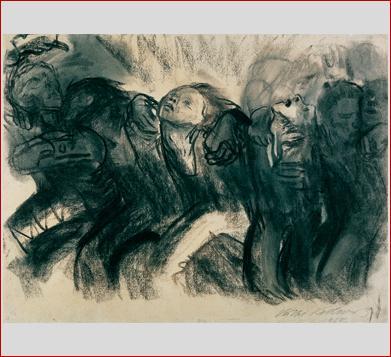 Die Freiwilligen, 1920 (source: http://www.kaethe-kollwitz.de/werkschau-en_16.htm) You can read more wonderful blogs from Tracey at
Don't Touch the Dinosaurs
and
www.zehnwocheninberlin.tumblr.com
Location:
Fasanenstrasse,
 24,
10719 Berlin

Entry Fee: 6 Euros