Karlie Kloss for Anthony Vaccarello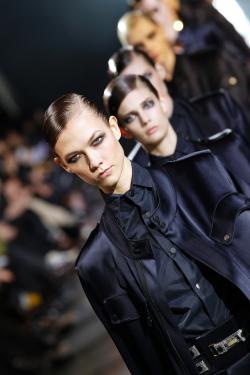 Karlie Kloss @ Anthony Vacc
When 19 year old model Karlie Kloss declined all offers to walk at New York Fashion Week for some 'big opportunity', questions and perfectly groomed eyebrows were raised.
What could possibly be such a great opportunity for the young model to skip out on fashion week in one of the biggest fashion capitals?
Was she booked specifically for London? No. Milan? No. Paris? Well...perhaps?
Today the model opened the Anthony Vaccarello show in a gorgeous navy duchesse satin suit and had twitter and other social media sites blowing up with status' of the models return.
This, (in my opinion) however couldn't possibly be the sole reason for her absence from the majority of fashion month. Missing three consecutive fashion weeks for a relatively new Belgian designer? I don't think so. Sure, Anthony Vaccarello is creating a name for himself - with winning the ANDAM award last year and having models such as Anja Rubik, Karmen Pedaru and Abbey Lee Kershaw approach him with the intent of walking for his Spring show - but this just doesn't seem like the reason. I guess we'll just have to wait and see though, won't we?
Bonjour Paris!