Karl Lagerfeld is a fashion legend. As head designer and creative director for both Chanel and Fendi, and later mastermind of his own premier label,
Lagerfeld's creations
are a staple in the wardrobes of wealthy trendsetters the world over. However, few may realize how instrumental Karl Lagerfeld was in transitioning couture to the mainstream in the 1960s.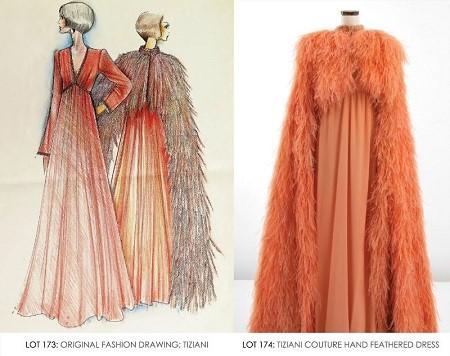 It was Lagerfeld who, nearly half a century ago, helped launch the designer ready-to-wear concept while an aspiring designer with couturier Tiziani. The historical connection between Lagerfeld and the advent of designer ready-to-wear has never been widely acknowledged, but a 50-year-old archive to be auctioned January 11th in West Palm Beach tells the story in stunning visual detail.
Karl Lagerfeld 1960s Fashion Sketchbooks for auction January 11
"This 1960s archive, which was maintained by the founder of Tiziani, Evan 'Buddy' Richards (1924-1994), passed down through consecutive estates and is absolutely unique," said auctioneer Rico Baca of Palm Beach Modern Auctions, the company conducting the sale. "It contains Lagerfeld sketchbooks – some showing entire ready-to-wear lines for a season – hundreds of individual sketches by Lagerfeld and other Tiziani designers, hundreds of photos of couture shows, and several signed photos and personal notes from Elizabeth Taylor to Tiziani." The collection's piece de resistance, a Tiziani coral gown with feathered cape, is matched to the original pre-production sketch. The sale also includes four other pieces of Tiziani couture – three dresses and a beaded top – plus four Mary McFadden couture garments and a mod-style Kiki Hart pantsuit.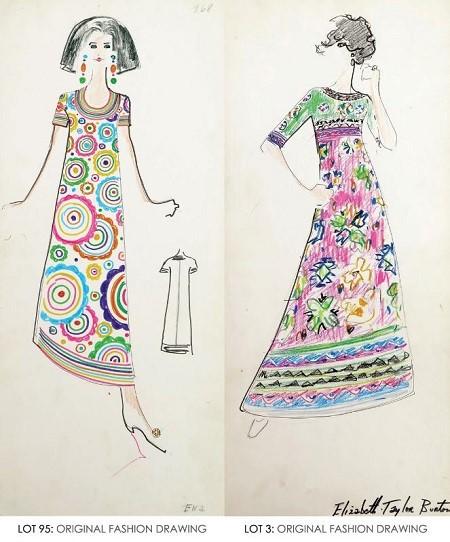 Tiziani designed for European royalty and stylish celebrities, including Princess Marcella Borghese, Doris Duke and Gina Lollobrigida. The label was a particular favorite of Elizabeth Taylor's, and during the years that Lagerfeld designed for Tiziani Roma under the mentorship of Richards – a Texas-born opera singer turned couturier – a close personal and working relationship developed among the three friends. Taylor chose Tiziani to design her wardrobe for several major films; some of the auction drawings are clearly marked for "Elizabeth Taylor Burton."
Karl Lagerfeld 1960s Fashion Sketchbooks for auction January 11
The Tiziani archive documents how couture made the leap to mainstream retail. "Evan Richards and his brilliant designer Karl Lagerfeld were right at the forefront," said Baca. "Richards had grown weary of his couture designs being purchased, taken apart and copied line for line by New York department stores. Eventually he thought, 'Why shouldn't we be the ones selling our designs as ready-to-wear?' That was the beginning of it all."
The importance of the Tiziani: Lagerfeld + Liz archive has been immediately recognized by fashion-industry moguls who've previewed its contents. "Those who've seen it have had the same sort of reaction a jeweler might have when examining a famous gem for the first time," Baca said. "A board member of a top design house remarked that the archive belongs in the Met's fashion collection."
The 400-lot archive will be complemented by 100 lots of mid century designer furniture and decorative art. The auction will commence at 12 noon ET on Sat., Jan. 11, 2014. The auction venue is located at 417 Bunker Rd., West Palm Beach, FL 33405. A cocktail party preview benefiting the Ann Norton Sculpture Gardens will be held at Palm Beach Modern Auctions on January 9th, commencing at 5 p.m.